Denti della Vecchia - Sasso Palazzo 1484 m
4868 ft.
---
Peak in

24 hike reports

, 24 photo(s). Last visited :

29 Oct 20


Geo-Tags: CH-TI, Gruppo San Lucio-Monte Boglia
Photos (24)
---
By Publication date · Last favs · By Popularity · Last Comment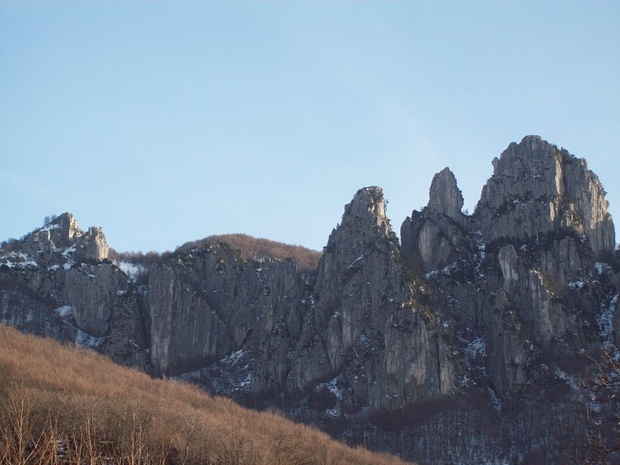 Sulla via del ritorno mi fermo a fotografare gli attori di questa giornata, i Denti della Vecchia. Arrivederci! © gbal
---
Reports (24)
---
Sasso Palazzo Invernale
Propongo qua una escursione invernale molto carina. Partenza da Rosone, subito sentiero interessante con un pezzo attrezzato che porta a Cioascio. Da qui si prende il sentiero che porta all'imbocco del canale nord del Sasso Grande che porta al Passo Streccione. Il canalone a mia sorpresa è stato anch'esso attrezzato...
Published by 16 February 2021, 18h57 (Photos:16)

Rund ums Val Colla auf dem Scenic Trail
Fantastischer Trailrun mit 10 Gipfeln ums Val Colla Die Umrundung des Val Colla auf den langen, meist sanften Kämmen ist logisch, sehr aussichtsreich und ausserordentlich abwechslungsreich. Die Linie sticht sofort ins Auge und erst bei der Planung fiel mir auf, dass ein recht bekanntes Trailrunning-Event - der "Scenic Trail"...
Published by 1 November 2020, 08h42 (Photos:22)
Bellinzonese

T4

II

17 Oct 20

Rund um das Val Colla - Monte Bar, Gazzirola, Cima di Fojorina, Sasso Grande und mehr
Wie auch schon letztes Wochenende ist im Tessin schönes Wetter gemeldet. Also ab über den San Bernadino. Dieses Wochenende soll es in 2 Tagen einmal um das Val Colla herum gehen mit Übernachtung im Refugio San Lucio, an gleichnamigem Pass. Highlight der Runde ist sicherlich die Besteigung des Sasso Grande am Ende der Tour. Die...
Published by 4 November 2020, 16h10 (Photos:42)

Grenzwandern Schweiz * Monte Brè - Cimadera
Der Monte Brè ist der Hausberg von Lugano, was einerseits an seiner tollen Sonnenlage direkt am See liegt, andererseits an seiner konischen, ja fast perfekten Form eines Modellberges. An seinen Ausläufern befinden sich die teuersten und exklusivsten Wohnlagen der Tessiner Stadt. Wir fahren heute als erstes mit der 1912 erbauten...
Published by 23 October 2019, 13h34 (Photos:64)
Sottoceneri

T3+

I

6 May 18

Denti della Vecchia
Dal parcheggio seguire la strada sterrata che parte in basso sulla destra. Proseguire sempre diritti fino alla Capanna Pairolo, qui svoltare a destra. Il sentiero è sempre ben segnalato, ma per salire sui Sassi Palazzi non ci sono indicazioni, solo qualche traccia di sentiero, pertanto bisogna affidarsi a quello che si vede....
Published by 6 May 2018, 16h14 (Photos:44 | Comments:2 | Geodata:1)
Sottoceneri

T5

F

12 Nov 17

Denti della vecchia, Sasso Grande : couloir NE (Canalino)
Balade plus courte que la veille au Motto d'Arbino mais aussi bien plus pimentée à travers les mini Dolomites calcaires dominant Lugano. S'il faisait clairement trop froid pour "vraiment" grimper, en tous cas en mode familial, l'ascension du point culminant du Sasso Grande par son couloir NE dit du...
Published by 17 November 2017, 10h57 (Photos:11 | Geodata:1)
Sottoceneri

T2

6b

5 Oct 17

Klettern in Denti della Vecchia
Das Klettern in den Denti della Veccia im Tessin ist bekannt, die Zähne der Alten, wie es übersetzt heisst. Einfache Zustiege, viele Routen von 3a bis 8a an Kalk-, zum Teil Dolomitgestein Vereinzelt hat es sogar MSL. Die Absicherungen sind meist gut. Natürlich ist die Gegend auch bei Wanderer sehr beliebt. Wie genau vor 2...
Published by 18 October 2017, 19h43 (Photos:13)
Lombardy

T5

PD

III

12 Nov 16

Sasso Grande(1491m) dalla Valsolda
Quante volte transitando dall'autostrada svizzera abbiamo visto i Denti della Vecchia stagliarsi all'orizzonte e come "sirene" chiamarci? Finalmente il sogno si è avverato! Grazie alla disponibilità di Alessandro ed Emiliano(che c'erano già stati) e alla compagnia di Cristian abbiamo percorso uno splendido anello culminato...
Published by 19 November 2016, 15h19 (Photos:58 | Comments:15)
Sottoceneri

T6-

II

17 Sep 16

Sasso Grande, Alpe Vecchio, Monte dei Pizzoni
Trying to get away from the bad weather, we headed as far south as possible. The chosen goal ended up being Valsolda, just across the Swiss-Italian border from Lugano. Though not high in altitude, the landscape here is astonishingly wild. It's almost as if a piece of Thailand's tropical Khao Sok national park has been moved to the...
Published by 22 September 2016, 20h12 (Photos:118 | Geodata:2)
Sottoceneri

T5

PD

III

21 May 16

Denti della Vecchia + Sasso Grande (1.491m)
Escursione ricca di emozioni e divertimento, brividi al punto giusto e una buona dose di autocontrollo. Percorsi già un anello sui Denti della Vecchia un paio di anni fa, tentando alla buona il Sasso Grande ma senza successo. Oggi con Federico ci siamo portati tutta l'attrezzatura necessaria per fare in modo di salirci ad ogni...
Published by 26 May 2016, 22h03 (Photos:53 | Comments:8 | Geodata:1)