Cima dell'Uomo / Uomo di Campionigo 2572 m
8436 ft.
---
Peak in

2 hike reports

, 25 photo(s). Last visited :

28 Jul 18


Geo-Tags: Gruppo Madöm Gross, CH-TI
Photos (25)
---
By Publication date · Last favs · By Popularity · Last Comment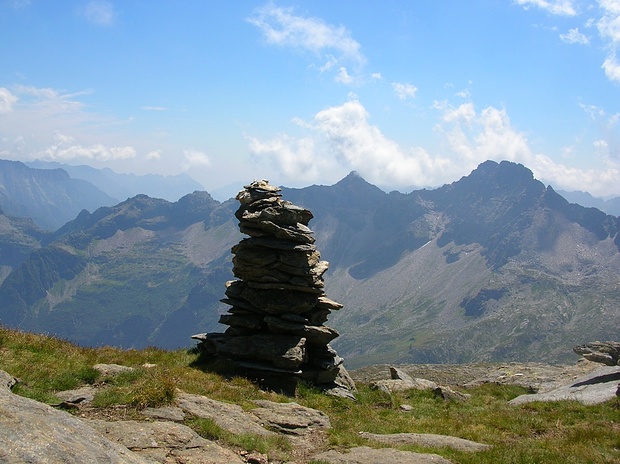 Auf dem Passo di Ghiacciaione ♫♬♫ Top Of The World ♬♫♬ /www.youtube.com/watch?v=ZFYK8NKErS8 ___________ ____ © mong
---
Reports (2)
---
Locarnese

T6-

II

28 Jul 18

Via Nicola Balestra - halbwegs
Im letzten Jahr war ich mit Tourinette bereits am gleichen Ort und mit ähnlicher Planung unterwegs. Dieses Mal sollte es endlich mit der Via Nicola Balestra klappen. Wobei das Wetter ähnlich unsicher daher kam. Den Aufstieg zur Cap. Cognora und die Überlegungen zur Tour sind an anderer Stelle bereits beschrieben. Also...
Published by 31 July 2018, 15h29 (Photos:59)

Via Nicola Balestra: dalla capanna Cognora alla Capanna Barone
Nel report sul giro che ho fatto il giorno prima (http://www.hikr.org/tour/post112077.html) ho scritto che una volta giunto alla Cognora la sera di sabato, vi ho incontrato un gruppo di avventori locali molto simpatici e cordiali. Il punto di contatto è stato duplice: a) gli stavano simpatici quelli di bergamo (e un poco erano...
Published by 8 September 2016, 14h00 (Photos:12 | Comments:3 | Geodata:1)