Chringe 1916 m
6284 ft.
---
Pass in

20 hike reports

, 24 photo(s). Last visited :

31 Oct 20


Geo-Tags: CH-OW, Hagleren und Giswilerstöcke
Photos (24)
---
By Publication date · Last favs · By Popularity · Last Comment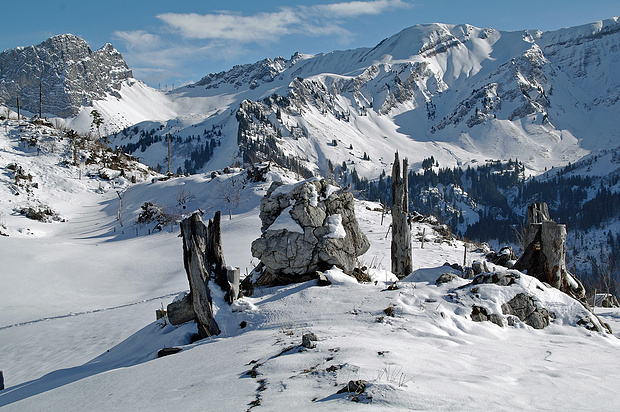 Bei Pt. 1599. Die drei Hochspannungsmasten auf der Chringe sieht man fast von jeder Emmentaleregg aus. © laponia41
---
Reports (20)
---
Obwalden

T5+

II

31 Oct 20

Giswilerstöck-Überschreitung Deluxe (inkl. Mändli)
Giswilerstöck-Runde Deluxe (inkl. Mändli und Sädel) Die perfekte Herbsttour: unten grau, oben blau und die Tour ist ganztags besonnt. Start bei der Fluonalp 1554m, welche seit letztem Wochenende geschlossen hat. Anschliessend auf dem markierten Bergweg hoch zum Stockkreuz 1825m, wo wir eine erste kurze Pause machen....
Published by 5 November 2020, 14h51 (Photos:24 | Geodata:1)
Obwalden

T4+

V-

F

5 Oct 18

Klettern beim Entlebuch
Klettern in einer Gegend die für uns noch neu war im schönen Herbstwetter war das Ziel. Durch die Mitnahme von Bike konnten wir uns viel Laufzeit zum Fels ersparen. Am ersten Tag die Überquerung vom Chringenspitz via Chringenkante als MSL. Ein Vater mit Sohn hatte die gleiche Idee, ansonsten waren wir alleine unterwegs an...
Published by 1 November 2018, 10h50 (Photos:18 | Geodata:2)

Mändli - Stellenen - Mändli
Nach zwei kräfteraubenden Touren wollte ich es heute gemütlich angehen. Da kann man beim Mändli nichts falsch machen. Die populäre Aufstiegsroute ab Glaubenbielenstrasse ist immer gespurt und der Weg weder weit noch schwierig. Wobei, eine kleine Extrawurst gönnte ich mir dann doch und hab noch eine Runde über den nahen...
Published by 9 December 2017, 20h03 (Photos:20 | Geodata:1)
Obwalden

T5+

II

14 Oct 17

Schafnase NW ridge + Rossflue
The northwest ridge on the Schafnase summit of the Giswilerstock is a popular route on Hikr, and rightfully so. The nearby Glaubenbielen pass means that you can complete a worthwhile and challenging scrambling route in less than 3 hours. Including the traverse of the Rossflue gives you even more fun, while the total time stays...
Published by 18 October 2017, 19h07 (Photos:52 | Comments:1 | Geodata:1)

Höch Gumme et Brienzer Rothorn
English version here Chaque été, j'ai un peu plus de mal à retrouver un niveau de forme physique qui me satisfait. L'âge n'aide pas, bien entendu ; mais en plus, je vais en montagne un peu moins souvent qu'auparavant et quasiment plus du tout en hiver. Je commence donc la saison estivale en partant de plus bas qu'il y a...
Published by 24 July 2017, 20h07 (Photos:18)
Obwalden

T5

AD-

III

18 Dec 16

Vom Mariental über die Sörenberger Dolomiten
Vom Waldemmental, dem Brienzergrat, dem Rosenlaui und dem Haslital waren mir die Giswiler Stöcke schon oft aufgefallen. Laut Clubführer sollen seine Klippen aus 200 Millionen Jahre altem Dolomit- und Kalkgestein der Jura- und Triaszeit bestehen. Bisher waren wir erst einmal vor vielen Jahren vom Ländli aus auf die Schafnase...
Published by 20 December 2016, 15h48 (Photos:24 | Comments:2)

Mändli / Höch Gumme / Brienzer Rothorn
Der Giswilerstock sieht man sehr schön wenn man von Sarnen aus über den Brünig fährt, sei es mit dem Auto oder mit der Zentralbahn. Ein kleiner Gipfel, das Mändli, (im Sommer mit leichter Kletterei gut erreichbar) auf der Westseite vom Giswilerstock war unser heutiges Ziel. Gestartet sind wir in Luzern und mit der...
Published by 20 September 2016, 09h02 (Photos:18)
Obwalden

T5+

II

20 Jun 16

Schafnase (NW-Grat) - Rossflue - Höch Gumme
Eigentlich stand ich vor gut einer Woche bereits auf den Giswiler Stöcken (klick). Aber die Überschreitung dieses kleinen, aber feinen Felsmassivs hat mir so gut gefallen, dass es mich nochmals Richtung Glaubenpielen zog. Und schliesslich gab es mit dem NW-Grat an der Schafnase sowie dem Chringen-Abstieg von der Rossflue zwei...
Published by 21 June 2016, 18h46 (Photos:28 | Comments:2 | Geodata:1)

Höch Gumme (2205 m) Mändli (2060 m)
Schönstes Bergwetter und Sonntag. Ich wähle eine Wanderung im näheren Umkreis, die nicht überlaufen ist. Wir fahren via Sörenberg auf den Glaubenbielen. Jetzt ist der Parkplatz noch leer, das wird sich heute noch ändern. Die meisten Leute werden aber nur in kleinem Umkreis ausschwärmen. Zuerst verläuft unser Weg fast...
Published by 9 November 2015, 22h59 (Photos:31 | Geodata:1)

Giswilerstock bis Manndli
Meine gemütliche Herbstwanderung startete ich auf der Alp Dundel, die man gut und ohne Fahrverbot aus Lungern erreichen kann. Hoch zur Dundelegg über ein Pässlein hinab zur Flounalp. Ein sehr gut gepflegter Wanderweg führt hinaus zum Giswilerstock 1825 m. Von hier führt ein Wäglein, eher Südseitig der Kante, hoch zum...
Published by 25 November 2014, 21h35 (Photos:17)