Chrüzegg 1020 m
3346 ft.
---
Other in

4 hike reports

, 3 photo(s). Last visited :

29 Aug 15


Geo-Tags: CH-SZ
Photos (3)
---
By Publication date · Last favs · By Popularity · Last Comment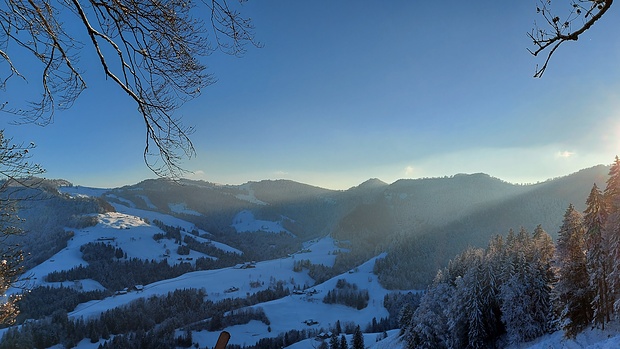 Der Tössbergland-Kamm. Schindelberghöchi und Schnebelhorn liegen rechts außerhalb des Bildrandes © alpstein
---
Reports (4)
---

Rigi Kulm to Immensee at night
Rigi - oh my Rigi. So many routes conduct to Rigi. And so many come down again. The purpose here was to walk down at night and experience the superb sunset in summer. At the same time I had noticed the fantastic line of the N-ridge all the way down to Immensee and it was now time to hike it. We went up by train to the top and...
Published by 10 November 2019, 18h57 (Photos:8)

Rigi NW-Rippe
Ziel der heutigen kurzen Tour: Vor dem angekündigten Regen über die schon lange geplante NW-Rippe auf die Rigi gelangen. Nun ja, einen Punkt habe ich erfüllt, denn auf der Rigi war ich schlussendlich. Details sind wie immer in den Fotos eingezeichnet. Ab Immensee folge ich dem Wanderweg über Ribitschi und Chrüzegg auf die...
Published by 27 July 2013, 17h49 (Photos:13)

Die Rigi geht immer
Was macht man, wenn morgens das Wetter viel besser ist als vorhergesagt, der Wanderkollege auf anderen Wegen und die Beschaffenheit der Wege unklar ist. Man geht auf die Rigi, die geht immer. Der blaue Himmel heute Morgen lockte mich förmlich aus dem Haus. Schon gestern hatte ich mir überlegt, wohin ich denn gehen könnte....
Published by 1 November 2012, 18h50 (Photos:28)

Abenteuer Rigi
Auf die Rekotour vom 10. August folgte nun heute die Tour mit den Senioren des SAC-Pilatus. Obwohl das Wetter am Morgen noch sehr durchwachsen war - auch ein paar Regentropfen sind gefallen - sollte es im Laufe des Tages doch sehr sonnig und warm werden. Die Aufstiegstour habe ich hier beschrieben. Zu ergänzen wäre nur noch,...
Published by 22 August 2012, 18h53 (Photos:12)