Chessel - Wegverzweigung P.1989m 1989 m
6524 ft.
---
Other in

17 hike reports

, 2 photo(s). Last visited :

12 Jul 20


Geo-Tags: CH-UR
Photos (2)
---
By Publication date · Last favs · By Popularity · Last Comment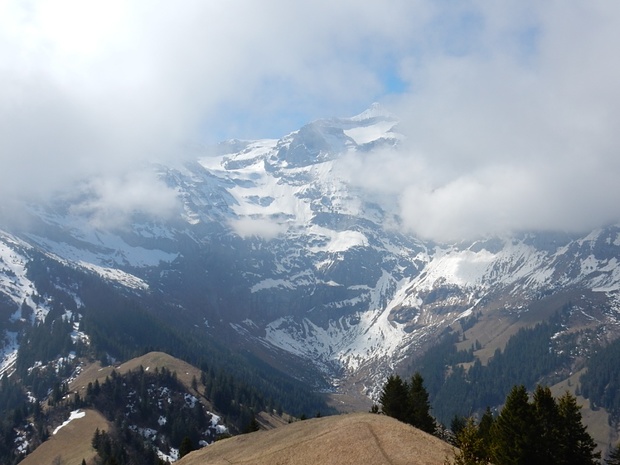 wolkiger Einblick ins hintere Chlital; undeutlich ist der Uri Rotstock erkennbar, die Musenalp ausserhalb des rechten Bildrandes © Felix
---
Reports (17)
---

Uri Rotstock (2928) Giro ad anello
ivanbutti Con Beppe avevamo più volte parlato della possibilità di una escursione su questa cima dalla quale si può vedere il Lago dei Quattro Cantoni (o alla tedesca Vierwaldstättersee), e questa settimana arriva finalmente l'occasione giusta. Sabato con meteo incerta e domenica bella, e vista anche la voglia di evitare...
Published by 14 July 2020, 05h15 (Photos:50 | Comments:12 | Geodata:1)

Gitschen Tourbericht mit Hinweisen zu Schwierigkeiten
Zum zweiten Mal haben wir den Gitschen begangen. Eine wunderschöne Tour mit kleinen Tücken, die ich hier beschreiben möchte. Ab der Bergstation Gietisflue steigen wir ziemlich steil, aber sehr angenehm auf und gewinnen schnell an Höhe. Der Weg bleibt angenehm, bis wir die Traverse zur Ostflanke erreichen. Die Ostflanke ist...
Published by 15 July 2020, 09h44 (Photos:3 | Comments:2)
Schlieren - Uri Rotstock - Rot Gitschen
Vorbereitung mit diesem Tourenbericht von 3614adrian. Hallo Namensvetter und vielen Dank dafür. Start um 0800 bei Talstation der Luftseilbahn Chli Bergli <> Gietisflue. Auf der Strasse bis Neihüttli dann via Wanderweg bis Musenalp. Dann gen Norden/Nordwesten halten (Richtung Westen käme man auf eine Kletterroute, wie...
Published by 3 October 2018, 20h03

Rot Gitschen, von Berg zu Tor
Anlässlich der beginnenden Fussball-WM passt ein Besuch beim Gitschentor gut, denn ein echter Zaza weiss ja, wie man Strafstösse souverän verwertet (Klick). Den Steilpass hatte uns Kamerad polder aufgelegt, so dass wir auf seine Beschreibung verweisen und bloss ein paar Hinweise zu den aktuellen Verhältnissen und zu unseren...
Published by 16 June 2018, 19h52 (Photos:24)

Uri Rotstock (2929) - Rundtour von der Musenalp
Der Uri Rostock ist eine auffällige zweifarbige Gipfelpyramide im Süden des Vierwaldstättersees. Nicht nur wegen dem Blick auf den See, sondern auch wegen der Aussicht auf den gegenüberliegenden Gletscher lohnt sich ein Besuch. Der Gipfel lässt sich entweder von Neiberg im Chlital oder vom St. Jakob Grosstal aus erreichen....
Published by 13 January 2021, 23h58 (Photos:21 | Geodata:1)

Gitschen
Nach der gestrigen Begehung des Klettersteiges Diavolo folgt nun heute das Dessert. Mit dem abenteuerlichen Seilbähnli schweben wir auf die Gietisflue. Nun geht es, immer den Markierungen folgend auf die Anhöhe Wang. Hier geniesst man erstmals die Tiefsicht zum Urnersee. Weiter steigen wir auf die Alp Oberberg. Ein kleiner...
Published by 22 December 2017, 10h34 (Photos:36)

Wolkentanz am Uri Rotstock
Der Gitschen war´s eigentlich, der uns nach Isenthal lockte. Nur wenige Wochen zuvor hatte ich diesen schon "erklommen", heute sollte es in Begleitung nochmal hinauf gehen. Auf der Fahrt hinauf Richtung Parkplatz Musenalp war allerdings recht schnell erkennbar: Das wird eher nichts. Denn in der Nacht zuvor hatte es offenbar...
Published by 21 August 2017, 10h52 (Photos:11 | Comments:2 | Geodata:1)

Uri Rotstock 2929m
Alpine Sportgruppe Zuger Kantonalbank Uri Rotstock-Rundtour Wer meine Berichte regelmässig liest weiss, dass ich ein grosser Fan der Urner Seilbahnen bin - und damit meine ich nicht etwa diejenigen in den Skigebieten, sondern die oft kleinen "Cabrio"-Holzkisten, welche einem bequem aus dem Tal hoch zu einer...
Published by 24 August 2017, 18h50 (Photos:19)

Gitschen
I only have Saturday morning available for a hike, but plenty motivation for a decent tour. The result: a 3.20am alarm and a 5.10am start at the end of the Chlital (Isenthal). A large traffic sign lists the times when the Postauto uses the narrow road from Bauen to Isenthal. It might be advisable to wait a couple of minutes,...
Published by 3 August 2017, 20h27 (Photos:54 | Comments:2 | Geodata:1)

Gitschen - Der Wächter vom Urner See
Da es schon einige Berichte zum Gitschen gibt hier nur mein Kurzbericht: Am Vorabend an der Talstation Gieitsflue genächtigt um morgens mit einer der ersten Gondeln der kleinen Luftseilbahn bis zur Alm (7,- Franken) hinauf zu fahren. Von dort aus über bewaldete Wanderwege bis zur Alm Oberberg am Fuss vom Gitschen, wo...
Published by 17 August 2017, 08h11 (Photos:14 | Geodata:1)