Chäligang Klettersteig 1660 m
5445 ft.
---
Via ferrata in

12 hike reports

, 10 photo(s). Last visited :

16 Oct 17
Photos (10)
---
By Publication date · Last favs · By Popularity · Last Comment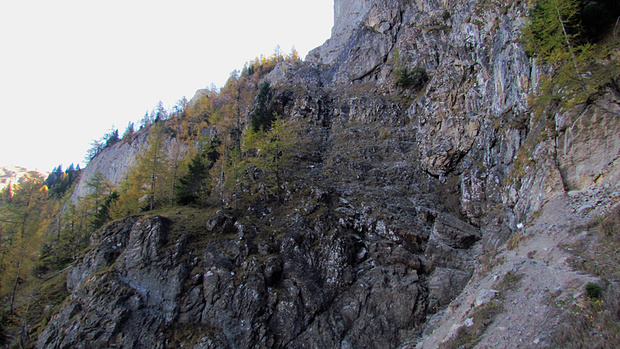 Der Klettersteig startet in der unteren, rechten Ecke des Bildes und nutzt diese seitliche Rampe, hinauf zum Ursprung des unteren Wasserfalles. © D!nu
---
Reports (12)
---
Frutigland

T3

PD

16 Oct 17

Chäligang Klettersteig
Nach unserer Anfahrt mit diversen Abstechern im Entschligental, starten wir zu Fuss von der Talstation der Engstligenalp Richtung Engstligen-Waserfälle. Heute ist wieder einmal der Weg das Ziel. Die Klettersteigausrüstung montierten wir bereits beim Parkplatz. Über verschiedene Wege erreicht man das Ende des unteren...
Published by 20 October 2017, 21h43 (Photos:25 | Geodata:1)
Frutigland

T1

PD-

6 Jul 17

Klettern an den Engstligenfällen
Der Klettersteig Chäligang war vor fast drei Jahren mein erster Klettersteig. Heute, bei viel schönerem Wetter als damals, stand dieser Steig wieder auf dem Programm. Der Weg hinauf zum Einstieg hatte ich nicht mehr so anstrengend in Erinnerung. Es geht doch ziemlich hoch bis man den Einstieg erreicht. Anschliessend folgt...
Published by 9 July 2017, 22h24 (Photos:12)
Meine Sammlung von Klettersteigen (38 Ideen)
In der schönen Schweiz haben wir viele Berge. Grosse Berge und kleinere. Auf kleine Berge führt nicht selten ein Stahlseil empor. So zählen wir heute in den Alpen mehr als Tausend solcher Einrichtungen.Nach meinem Bericht der Sammlung von Seeumrundungen habe ich nun meine Klettersteigberichte in einem separaten...
Published by 6 November 2015, 22h19 (Photos:38)
Frutigland

T2

PD

22 Aug 14

K2 Chäligang Engstligenalp
Klettersteig Chäligang zum 4.en Nun bereits zum 4. Mal seit August 2013 ersteige ich diesen Steig. Es ist mir der Liebste. Den Zustieg zum Einstieg habe ich Rechts im Geröllfeld umgangen, da der Weg nahe dem Wasserfall Nass war. Der Einstieg ist nach wie vor die grösste Herausforderung für mich. Dannach Genuss pur. Da...
Published by 30 August 2014, 19h33 (Photos:2)

Klettersteig Chäligang
Der Chäligang Klettersteig in Adelboden ist sehr gut geeignet für Neueinsteiger -Einerseits einfach (KS2) und andererseits dank des Wasserfallssehr schön und eindrücklich. Start bei der Talstation der Engstligenbahn (hier kann auch das Klettersteig-Material gemietet werden). Wir folgen erstmals den normalen Wanderweg bis...
Published by 27 August 2014, 20h39 (Photos:10)
Frutigland

T2

PD-

27 Jul 14

Chäligang - mein Erster, oder auch, Dany in Gefahr
Naja nicht wirklich in Gefahr. Aber während den 20 Minuten hin bis zum Klettersteig, wird das flaue Gefühl im Magen bestimmt nicht geringer. Vor allem wenn man dann den imposanten Engstligenfall empor schaut. Gott, da solls rauf gehen? Cool! Die schwierigsten Passagen, ( ich weiss, einige sind der Meinung, es gäbe gar keine...
Published by 30 July 2014, 14h25 (Photos:8 | Comments:6)
Frutigland

T2

PD

13 Sep 13

K2 Chäligang Engstligenalp
Klettersteig Chäligang in Adelboden,K2, T3 Dauer nur Steig 2.5 Stunden, ab bisUnter dem Birg= Talstation Engstligenalpbahn 4 Stunden. Wer über den T2 Wanderweg nicht hinunterlaufen mag kann in ca. 20 Minuten hoch zur Bergstation der Engstligenalpbahn und mit der Luftseilbahn hinunter. Bilder der Tour auf meiner Homepage...
Published by 29 September 2013, 22h45 (Photos:3)
Frutigland

T3

PD-

12 Aug 12

Searching for the Edelweiss and feet bathing at Engstligenalp
When a guy from France read to many times "Asterix in Switzerland" ("Astérix chez les Helvètes" for the original French title) and had heard that silver stars are growing in the Alps, it was necessary for him to see these by himself. And then you add a guy from Iowa and living in California who wants to try out at nearly sixty a...
Published by 12 August 2012, 21h10 (Photos:27 | Comments:1)
Chäligang Klettersteig
Ein Klettersteig der einfacheren Sorte, geeignet für Anfänger oder Kinder, denn er ist nirgends schwierig und durchgehend gesichert. Nichtsdestotrotz ist es ein sehr schön angelegter Steig, und mit dem Wasserfall erinnert er ein bisschen an den Allmenalp Klettersteig. Von der Talstation Underem Birg gehts in ca....
Published by 24 July 2012, 22h48 (Photos:24 | Comments:2)
Frutigland

T5

I

PD-

30 Jun 12

La ferrata du Chäligang et le Rotstock
Via Ferrata du Chäligang: Très simple. Bon entraînement pour parfaire la technique de grimpe alpine si l'on n'utilise le métal que pour l'assurage. Douche gratuite assurée en bas de la cascade et edelweiss en sortie de ferrata. Engstligenalp - Rotstock: D'abord sur l'arête sud-est pour accéder au point 2542 (sans nom...
Published by 1 July 2012, 00h21 (Photos:77 | Comments:4 | Geodata:1)