Brunhorn 2743 m
8997 ft.
---
Peak in

3 hike reports

, 20 photo(s). Last visited :

9 Sep 18


Geo-Tags: CH-GR
Photos (20)
---
By Publication date · Last favs · By Popularity · Last Comment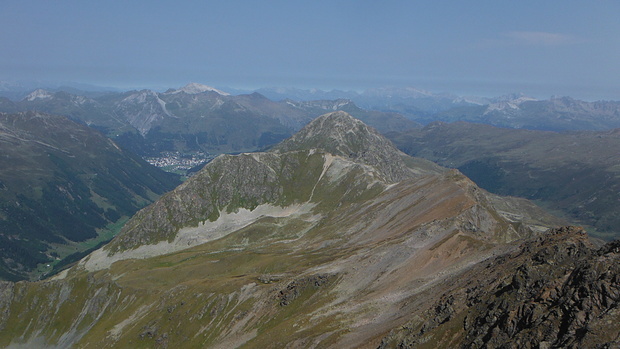 Towards Davos - view from the summit of Chlein Schwarzhorn. BTW. The hazy layer of dust above is apparently due to the wildfires in Canada. © Roald
---
Reports (3)
---

Schöntällichopf 2794m
Kaum zu glauben, es gibt im Flüelatal noch Ecken und Gipfel welche ich bisher nicht kannte. Wenn auch wenige ;-) Gesternabend beim planen fiel mir auf, dass P.2794, im Grat vom Sentisch Horn zum Chlein Schwarzhorn, auf Hikr einen Namen hat. Dieser wird mit Schöntällichopf angegeben. Das macht aus meiner Sicht wirklich Sinn....
Published by 7 August 2019, 10h57 (Photos:25)

Brunhorn 2743 m
Das Brunhorn liegt in der Schwarzhornkette, welche das Flüela und das Dischmatal trennt. Der Gipfel 2743 m ist ins Dischmatal vorgeschoben, so dass sogar vom Steinmann aus zum Ausgangspunkt hinab geschaut werden kann. Vom Steinmann führt ein Grat zu Punkt 2764 m von dem man eine gute Sicht ins Flüelatal hat. Wir stiegen von...
Published by 15 July 2018, 21h57 (Photos:11)

"Erstbesteigung" Brunhorn ;-)
Dass es nicht die absolute Erstbesteigung war, habe ich schon vorher gedacht ;-) Aber immerhin war es die Hikr-Erstbesteigung. Und da gäbe es ja noch ein paar weitere Hügel... Das Brunhorn ist eigentlich ein super Aussichtsberg. Obwohl er bei weitem nicht der höchste im Gebiet ist, hat man alles...
Published by 8 August 2009, 17h30 (Photos:9 | Geodata:2)