Bocca del Tuckett 2648 m
8685 ft.
---
Pass in

5 hike reports

, 12 photo(s). Last visited :

30 Jul 17
Photos (12)
---
By Publication date · Last favs · By Popularity · Last Comment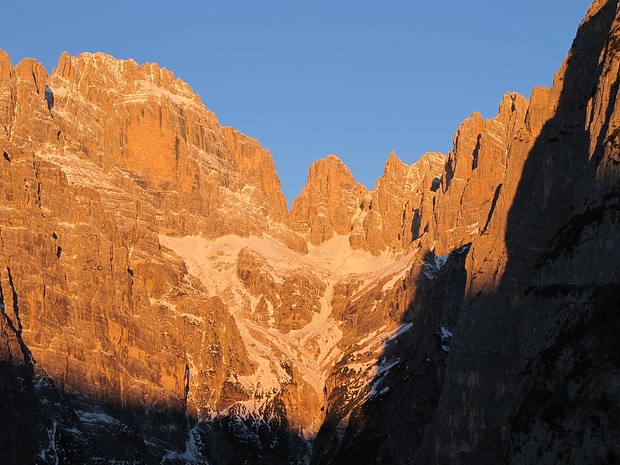 ..... der Cima Brenta (3150 m), rechtsseitig gesäumt durch die Bocca di Tuckett (2613 m) und die anschließende Cima Sella (2907 m). © gero
---
Reports (5)
---
Trentino-South Tirol

T4

F

AD

30 Jul 17

Via delle Bocchette (Alfredo Benini + Alte + Centrali)
The Bocchette trail in the Brenta Dolomites! A unique route, traversing along incredible ledges, from saddle (= bocchetta) to saddle, just below the highest peaks of the Brenta group. A via ferrata classic if there ever was one! As far as via ferrata is concerned, the routes are not particularly difficult (up to C / K3, mostly...
Published by 6 August 2017, 19h35 (Photos:173)
Trentino-South Tirol

T4+

I

PD+

26 Jul 17

Brenta-Durchquerung
Die den Dolomiten sehr ähnliche und im italienischen Sprachraum auch dazugehörende Brentagruppe ist bekannt für ihre Eisenwege, die Vie Ferrate. Ein Netz aus Klettersteigen durchzieht fast das gesamte Massiv, Hütten sind zahlreich vorhanden und so wundert es nicht, dass auch hier einiges los ist. Für unsere Tour wählten wir...
Published by 31 July 2017, 13h59 (Photos:25)
| | | |
| --- | --- | --- |
| Trentino-South Tirol | | 24 Sep 13 |

Erkundung Brenta-Ost - durch das Val Perse zur Bocca del Tuckett und weiter auf dem Sentiero Orsi
Und noch einmal kann ich Euch eine großartige Erkundung auf der Ostseite der Brenta vorstellen - bevor irgendwann vielleicht auch mal Klettersteige oder Gipfelbesteigungen auf dem Programm stehen. Teil 1: aus dem Val Biole zum Rifugio Croz dell'Altissimo Heute starte ich zu früher Stunde am Parkplatz im dichten...
Published by 27 September 2013, 17h26 (Photos:68 | Comments:1 | Geodata:1)
| | | |
| --- | --- | --- |
| Trentino-South Tirol | F | 1 Sep 07 |

Brenta
Folgende Klettersteige habe ich in der Brenta gemacht: Sentiero Attrezzato Benini, Bocchette Centrali, Bocchette Alti, Sentiero Sosat, Sentiero Brentari, Sentiero E.Castiglioni 1.Tag Madonna di Campiglio - Graffer Hütte 2.Tag Graffer Hütte - Tuckett Hütte (Sentiero Attrezzato Benini) 3.Tag Tuckett Hütte...
Published by 1 October 2013, 23h13 (Photos:70)
Trentino-South Tirol

T4

F

AD

12 Sep 91

Drei Tage in der Brenta: Die Sentieri Benini, delle Bocchette Alte, Orsi, Brentari und Castiglioni
Die Brenta! El Dorado der Klettersteige! Wobei es auch in Paris eine spektakuläre Via Ferrata gibt... Der gesamte Gebirgsstock ist eine fantastische Gegend, die man am Besten in einer großen Klettersteigrunde erkundet. Dabei bewegt man sich in teils mythischem Gelände: Die Bocchette-Wege, die Guglia, die Blick zu Adamello...
Published by 21 February 2019, 10h22 (Photos:66)