Becca di Moncorvé 3875 m
12710 ft.
---
Peak in

2 hike reports

, 16 photo(s). Last visited :

13 Jul 19


Geo-Tags: I
Photos (16)
---
By Publication date · Last favs · By Popularity · Last Comment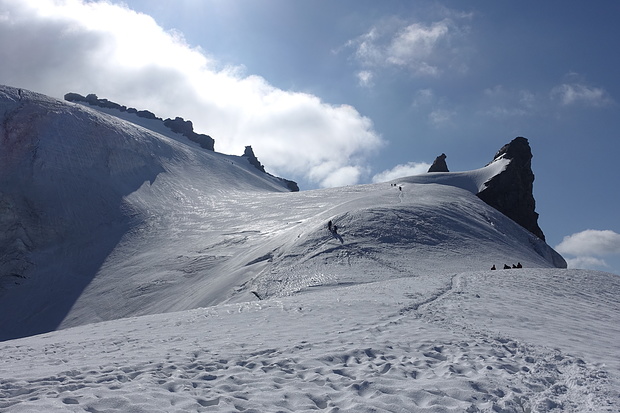 Im Abstieg vom Gran Paradiso - Rückblick im Bereich des "Eselsrückens" Schiena d'Asino. Auch die Felszipfel der Becca di Moncorvé (3.875 m) sind wiederum zu erkennen. © pika8x14
---
Reports (2)
---
Val d'Aosta

T4

PD

II

13 Jul 19

Gran Paradiso
Der höchste Gipfel der Grajischen Alpen und - neben der Barre des Écrins - einzige Viertausender der Südalpen ist ein wahrhaft majestätischer Berg. An topographischer Prominienz steht er unter den Viertausendern der Alpen gar an sechster Stelle: Nur der Mont Blanc, der Monte Rosa, das Finsteraarhorn, der Piz Bernina und die...
Published by 18 July 2019, 13h36 (Photos:56 | Comments:3)
Val d'Aosta

PD

WT3

PD+

6 Apr 14

Gran Paradiso - Skitour around the peak - 7days
1. Cogne-Valnontey - rif. V.Sella We started the tour at Sunday (6.4.2014) from carpark near the last restaruant in Cogne-Valnontey. The begin in valley Valnontey to - after a while - a steep slope on the right towards V. Sella hut. We carry our the skis about 1h and put them on more less on 1900 m asl and don't take them off...
Published by 24 January 2015, 11h27 (Photos:40 | Geodata:7)