Atlas 2927 m
9601 ft.
---
Peak in

9 hike reports

, 124 photo(s). Last visited :

28 Jun 19


Geo-Tags: CH-GR, Segnas-Vorabgruppe
Photos (124)
---
By Publication date · Last favs · By Popularity · Last Comment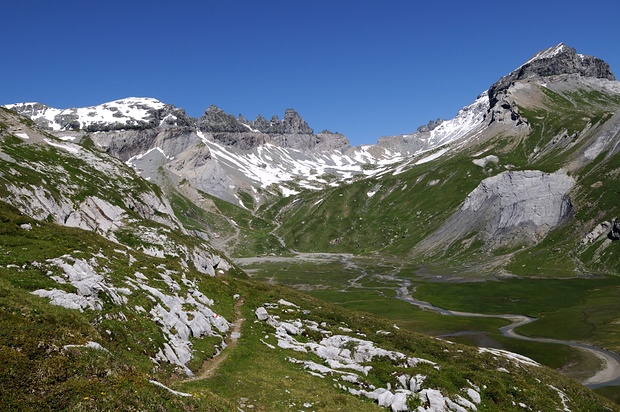 Plaun Segnas Sut mit Tschingelhoren, Segnespass und weiss jemand wie der Berg rechts heisst? --> Atlas. Danke Sputnik! © denali2002
---
Reports (9)
---

Piz Sardona, Piz Segnas und Atlas via Geissegg
Piz Sardona und Segnas geben sommers wie winters prächtige und beliebte Gipfelziele ab, die auf den Normalrouten ohne grössere Schwierigkeiten zu erreichen sind. Spannender ist aber der Aufstieg ab Elm über eine der Varianten in der Westflanke. Angenehmer Nebeneffekt am heutigen Hitzetag: Die Routen verlaufen durchgehend im...
Published by 2 July 2019, 12h58 (Photos:27 | Geodata:1)

Piz Segnas via Martinsloch und Atlas
Eindrückliche Rundtour ab Nideren durchs Martinsloch, via Atlas zum Piz Segnas und zurück über den Segnespass. Schon auf dieser Tour hatte ich den langen Südgrat zum Piz Segnas geplant, musste aber aus Zeitmangel bei der Fuorcla dil Segnas Sura abbrechen. Der neulich publizierte schöne Bericht von Roald hat mich daran...
Published by 16 September 2016, 06h30 (Photos:40)

Atlas (2927 m)
Since I had already been on many of the surrounding peaks close to Flims, it was time to pay a visit to the mountain called Atlas (2927 m). Even though this mountain is not as high as Piz Segnas or Piz Dolf, it still offers great panoramic views - especially on a day like this. The most difficult part of the hike was the...
Published by 25 August 2016, 18h45 (Photos:31 | Comments:2 | Geodata:1)
Glarus

T4

PD

II

27 Sep 14

Rund um die Tschingelhörner via Laaxer Stöckli, Ofen und Atlas
Schöne Rundtour bei ausnahmsweise mal bestem Wetter. Aus Zeitmangel leider ohne Piz Segnas.   Mit dem Retour-Ticket in der Tasche starte ich um 8:35 bei der Tschingelbahn Bergstation. Zunächst auf dem Wanderweg zur Martinsmadhütte, dann auf blauweiss markiertem Weg hinauf zum Grischsattel (T3). Ab 2400m liegt zum Teil...
Published by 14 October 2014, 20h40 (Photos:40)

Auf die harte Tour: Atlas (2927 m) und Piz Segnas (3098.6 m)
An sich drängt sich diese Variante geradezu auf, aber bisher hats auf HIKR niemand probiert: Den Piz Segnas konsequent über den Südgrat zu besteigen. Das habe ich heute von Nideren (Elm) aus gemacht.   Mit dem 08:20-Bähnli nach Nideren und dann via Segnas-Passhöhe und quer durch Las Palas zum P. 2459 am Südende...
Published by 6 September 2013, 17h37 (Photos:16 | Comments:5)

Atlas 2927m, Piz Segnas 3098m und Piz Sardona 3056m - klasse Überschreitung von Klassikern
Die beiden Klassiker Piz Segnas und Piz Sardona standen schon lange auf meiner Liste. Offen war jedoch die Frage, wie es wohl am besten gelingt, diese beiden in eine möglichst abwechslungsreiche und auch herausfordernde Tagestour für Liebhaber des oberen T-Bereiches einzubinden. Der kompromisslose Sieger: eine abwechslungsreiche...
Published by 12 September 2013, 17h01 (Photos:39 | Comments:2 | Geodata:1)

Atlas 2927m.ü.M. - Piz Segnas 3099m.ü.M. - Piz Sardona 3056m.ü.M.
Das Gebiet rund ums Martinsloch ist aufgrund seiner Kargheit und seiner vielen bizarren Felsformationen faszinierend. Bekannteste Gipfel in der Region sind sicherlich der Piz Segnas und der Piz Sardona. Heute musste ich früh aus den Federn für eine Tagestour. Bereits um 5.48 Uhr sassen wir im Zug, was zur Folge hatte, dass...
Published by 5 October 2011, 15h19 (Photos:28 | Comments:6)

Piz Sardona via Geissegg
Schneewanderung bei Gluthitze Die Kombination Sardona - Segnas hatte mich bisher nie sonderlich gereizt, doch als polder die Route via Geissegg vorschlug, klang das doch plötzlich sehr interessant. Umso besser, dass diese Route auch auf der Wunschliste von omega3 drauf war. Weil die aus Züri angereisten Kameraden...
Published by 10 July 2010, 19h43 (Photos:21 | Comments:2)
Ausblicke zum Martinsloch und Piz Segnas
Wir dürfen zum Hochzeitstag ein kinderfreies Wochenende geniessen! Link zur Tour vom Vortag: historischer Klettersteig Pinut Wegen unfreundlichem Wetter am Samstag haben wir die beiden Touren vom Wochenende getauscht. Dies bedeutete aber auch eine relativ späte Heimkehr. Den Piz Segnas probierten wir wegen dem Neuschnee...
Published by 10 August 2009, 23h35 (Photos:43)