Alpina-Hütte 690 m
2263 ft.
---
Hut in

4 hike reports

, 1 photo(s). Last visited :

27 Aug 20
Photos (1)
---
By Publication date · Last favs · By Popularity · Last Comment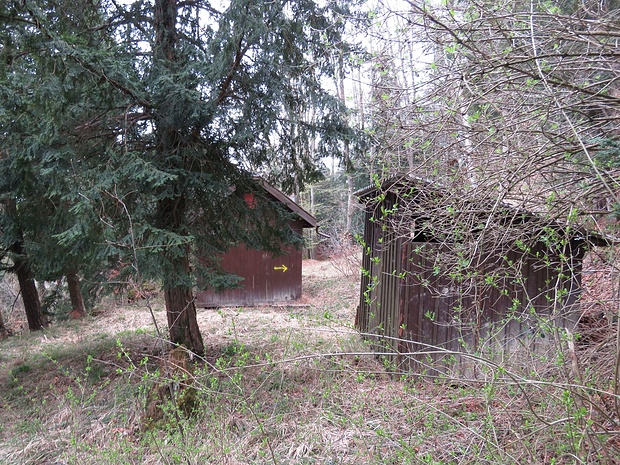 Die Alpinahütte befindet sich etwas versteckt auf dieser kleinen Lichtung. Ein Pfad soll rechts den Hang hinaufführen, ich kann ihn allerdings trotz des gelben Pfeils nicht entdecken. Deshalb biege ich bei der Hütte nach links ab und steige auf dem Sporn hangabwärts ins Tal. © carpintero
---
Reports (4)
---
Fallätsche-Traverse
Fallätsche-Traverse von Teehütte nach Alpinahütte. Dann wieder etwas zurück und Abstieg auf dem südlichen Trichterrand nach Leimbach und Albisgüetli. Verhältnisse sehr gut und fast alles trocken, Weg gut ersichtlich und gut zu finden dank den vielen Routenbeschreibungen hier. Schöne Wegführung durch den Trichter....
Published by 27 August 2020, 17h35 (Comments:4)

Fallätscherunde mit "Obeneinstieg"
Hinweis: Gemäss dem Hikr-Bericht von erich8995 vom 27. Oktober 2019 ist die im untenstehenden Bericht erwähnte kleine Höhle eingebrochen. Das Fallätsche-Büchlein ist dabei begraben worden. Die Route Direttissima Mitte-Nord ist weiterhin begehbar (T4+). Der Abbruch zeigt, dass in der Fallätsche stets grosse Vorsicht...
Published by 23 April 2018, 16h55 (Photos:3 | Comments:2)

Fallätsche
Die Berichte von Uto869, speziell der Bericht Falletsche: Übersicht über Routen und Trampelpfade, und das Projekt https://stijnvermeeren.be/uetliberg sowie der Bericht An exploration of the Fallätsche traverse von Stijn sollen nicht unerwähnt bleiben.   Gleich wie beim Besuch von letzter Woche gelange ich vom...
Published by 27 April 2018, 07h19 (Photos:16 | Geodata:1)

Fallätsche Süd, 1. Versuch
4.12.2016 Fallätsche Süd, 1. Versuch Am 4. Dezember 2016, das Wetter ist seit längerer Zeit trocken und mild, fahre ich mit dem Bus 70 bis "Im Hüsli" und gehe auf der Maneggpromenade bis zur Stotzstrasse, gehe diese aufwärts und dann um den Friedhof herum in nördlicher Richtung durch den Wald. Links suche ich eine...
Published by 8 January 2017, 14h30 (Photos:10)