Schrattenflue - Hächle 2091 m
6858 ft.
---
Peak in

35 hike reports

, 211 photo(s). Last visited :

2 Nov 15


Geo-Tags: Schrattenflue-Gruppe, CH-LU
Photos (211)
---
By Publication date · Last favs · By Popularity · Last Comment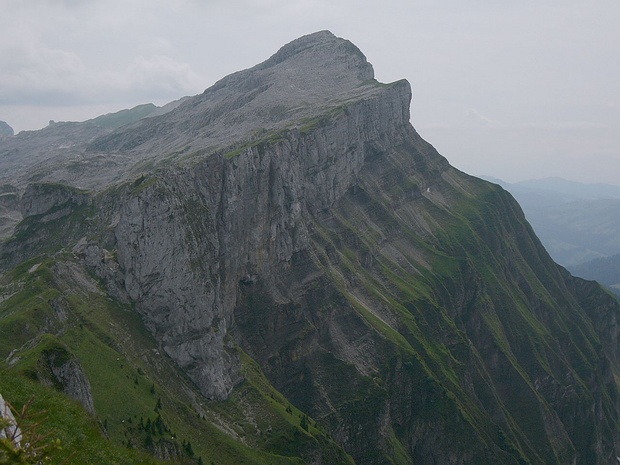 Rückblick vom Schrattenflue-Strick (1946,0m) auf die zuvor besuchte chaotische Schrattenflue-Hächle (2091m). © Sputnik
Reports (35)
---

Strick - Hächle
Strick - Hächle Schöne Überschreitung über den nördlichen Teil der Schratteflue. Route: Bodehütte - Under Gumme - Ober Gummenegg - Strick - Heftihütte - Hächle - Heideloch - Bodehütte Schwierigkeit: T5 (gem. Alpinwandern / Gipfelziele: Entlebuch / Emmental. SAC Verlag. Aus meiner Sicht eher ein gutmütiges T5....
Published by 2 November 2015, 20h07 (Photos:17 | Comments:7)

Schrattenfluh traverse
Even just looking at a map, the Schrattenfluh is one of the most eye-catching features in the Emmentaler Alps. With its vertical walls to the north-west and its limestone slopes to the south-east, the Schrattenfluh looks pretty wild from any direction. Up close, the mountain is surprisingly accessible to hikers with several marked...
Published by 3 November 2015, 21h35 (Photos:47 | Geodata:1)

Strick (1946m) & Hächle (2091m)
"Ab an die Sonne!", sagte sich an jenem Sonntag die halbe Schweiz – und so auch wir. Gefragt war eine Sonnenhang-Tour hoch über dem Nebel, aber noch unter der Schneegrenze. Fündig wurden wir auf der Schrattenflue, genauer auf dem Strick und der Hächle. Diese zwei zu verbinden, das war unser Ziel. Wir hielten uns bei...
Published by 7 November 2015, 22h55 (Photos:23)

Wundertüte Schrattenflue (Überschreitung)
Die Voralpenketten bieten ideale Wandergebiete für den Spätherbst. An schönen Tagen sind es Panorama-Kanzeln par excellence. Die Sicht reicht vom Säntis zu den Savoyer Alpen und über das oft nebelbedeckte Mittelland. Die abgelegene Schrattenflue mit ihren ausgedehnten Karrenfeldern wartet darüber hinaus mit geologischen...
Published by 26 October 2015, 16h07 (Photos:5)

genussvolle Hächle-Überschreitung
Am 24. Mai 2009 haben wir die doppelgipflige Hächle zum ersten Mal überschritten - Zeit, dies zu wiederholen, heute jedoch in der Gegenrichtung … Der prächtige, sommerliche Bergtag beginnt beim Parkplatz unterhalb der Alp Schlund, auf 1448 m; ab hier wandern wir erst gemächlich, nur wenig ansteigend an der Alp...
Published by 8 July 2015, 11h46 (Photos:42 | Geodata:1)

Schrattenflue-Hächle 2092m
Das heutige Ziel war wie bereits vor vier Wochen die Schrattenflue, nur dies Mal war das Gipfelziel die Hächle. Wie sich herausstelle eine gute Alternative zum viel begangenen Hengst. Wir starten direkt nach der Brücke, rechts den Aufstiegsspuren nach über Neuhüttli bis zur Bodenhütte. Oberhalb der Bodenhütte fängt...
Published by 7 March 2015, 21h05 (Photos:7)

Hächle 2091m und Hengst 2092m
Wie schon bei unserer Strick Überschreitung, parkierten wir wieder auf dem Hilferenpass. Der Bergweg hinauf zum Heftibode war diesmal gut zu finden, verglichen mit letztem malwar's auch nicht mehr so rutschig feucht. Ein umwerfendes Panorama mit sehr guter Fernsicht empfing uns oben bei der Heftihütte. Vorbei an der Hütte,...
Published by 4 November 2014, 16h53 (Photos:75 | Comments:4)

Strick und Hächle
Da die Prognosen für das Entlebuch gar nicht so schlecht waren, wollten wir heute eine alte Pendenz erledigen: Die Überschreitung von Strick und Hächle. Von der Station Hirseggbrügg ging es zuerst der Strasse entlang zu Pt. 1008 und von dort dem Wanderweg entlang über Schlüechtli und Gumme zur Obergummenegg. Von dort...
Published by 13 October 2014, 13h25 (Photos:14)

Schrattenflue komplett
Auch wenn mittlerweile etwas aus der Mode gekommen, zählt die Schrattenflue weiterhin zu den beliebtesten Überschreitungsprojekten auf Hikr. Das ist wenig verwunderlich, denn das anerkannte UNESCO-Biosphärenreservat bietet ein landschaftliches Spektakel sondergleichen. Die Schwierigkeiten im teils scharfen Schrattenkalk sind...
Published by 3 September 2014, 11h17 (Photos:39 | Geodata:1)

Über Strick und Hächle
Strick (1946m) - Hächle (2091m). Oberhalb des markierten Panoramawegs über die Schrattenfluh gibt es alpine Direktverbindungen, die eine Überschreitung von Strick und Hächle erlauben - zwei eher stillen Gipfeln in einem beliebten Tourengebiet. Unser Aufstieg verläuft ruhig, bis uns oberhalb der Ober Gumme zwei...
Published by 23 June 2014, 20h41 (Photos:40)