Rautispitz 2283 m
7488 ft.
---
Peak in

80 hike reports

, 425 photo(s). Last visited :

14 Aug 16


Geo-Tags: CH-GL, Oberseegruppe
Photos (425)
---
By Publication date · Last favs · By Popularity · Last Comment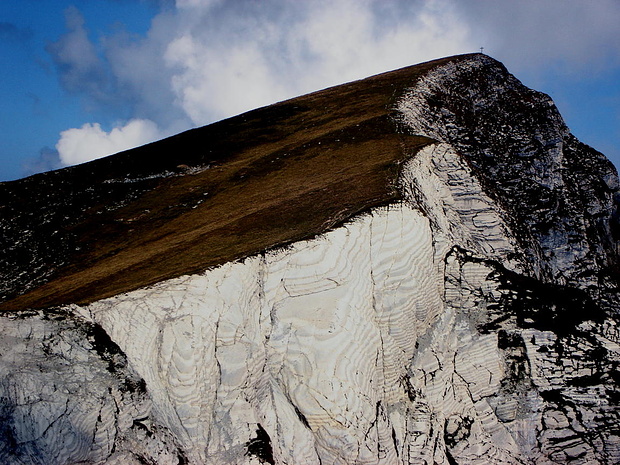 Die schräg angeschnittenen Mergelschichten des Rautispitz-Gipfels sehen bei entsprechender Beleuchtung aus wie Damaszenerstahl. © PStraub
Reports (80)
---

Wiggis-Rautispitz
  Start: Rhodannenberg (Klöntal) 848m - bus from Glarus. End: Obsersee 992m - no bus. Hitchike or walk. Climb: 1622m/1486m Distance: 12km Time: 7:13. GPS Map Photographic Album   The Wiggis is a prominent grassy peak in the Glarus alps. There are many ways to reach it, but I took the path...
Published by 14 August 2016, 22h53 (Photos:19 | Comments:1 | Geodata:1)

Rautispitz NordOst Grat
Die Sonnenstube Tour auf den Rautispitz ist angesagt. Zusammen mit Eli und Pädi starteten wir beim Obersee. Wir folgten der Empfehlung via Grapplialp und stiegen nicht dem Grat entlang durch die Legföhren. Schöner Aufstieg durch den Wald bis zur Troshütte. Der Abzweiger beim Grappliwald ohne GPS kaum zu finden. Weiter durch...
Published by 5 July 2016, 17h25 (Photos:31 | Geodata:2)

Äs Cherzli uf äm Rauti - Rautispitz (2283 m)
An Heiligabend soll es liebgewonnenes Brauchtum geben wie 'shop until you drop', Christbäume abfackeln, Familienkräche austragen oder sich bis zur Besinnungslosigkeit zu besaufen. Aber das schien mir alles nicht wirklich attaktiv. Darum habe ich mir als Alternative eine Schneeschuhwanderung auf den Rauti einfallen lassen....
Published by 24 December 2015, 16h28 (Photos:13)
Glarus

T6

III

F

19 Nov 15

Das Schnürli am Wiggis
Schon einmal ging ich diese Strecke. Aber der letzte Teil, das eigentliche Schnürli lies ich aus. Auch dieses mal wollte es nicht. Ich stieg schon wieder zu hoch. Aber der Reihe nach... Geplant ist mit dem Bike die Tour zu starten. Ein Platten am Reifen verzögerte meine Abfahrt. Das Bike mit Anhänger stellte ich in den Wald....
Published by 22 November 2015, 19h16 (Photos:18 | Geodata:2)

Obersee-Rautispitz, ohne Wiggis-Obersee
ganz Oktober war ich nicht auf dem Gipfel. Daher wusste ich gar nicht was der Schnee sich so treibt. Am Dienstag war ich schnell auf Mattstock um den Schneestand zu prüfen. Es sah nicht schlecht aus..... Nun Rautispitz ins Auge gefasst und gestartet. Obersee-Grapplialp Typisch Glarnerland. Von Anfang an sehr steil. Dafür...
Published by 7 November 2015, 12h26 (Photos:14 | Comments:3)

Rautspitz via Trosweg und Wiggis
Der Bericht Geniale Route - "Tros-Weg" am Rautispitz (2283 m) von PStraub inspirierte mich für diese Tour auf den Rautispitz. Der Ausdruck vom Bericht Rautispitz Nordwest (Tros) und Wiggis Nord von justus und vor allem der GPS-Track waren beim vorherrschenden Nebel hilfreich. Es ist anzumerken, dass die Route auf den...
Published by 18 October 2015, 17h51 (Photos:37 | Comments:1 | Geodata:1)

Rautispitz am letzten Hitzetag
Der letzte Hitzetag im Jahr 2015 führt unsere Ortsgruppe der Naturfreunde nochmals in die Berge. Es geht auf die Rautispitz und für einen Teil der Gruppe auch auf den Wiggis. Die Tour ist eine anspruchsvolle Bergtour - gerade bei den Temperaturen die wir vorfanden. Aber auch bei normalen Wandertemperaturen gibt es einige...
Published by 10 February 2016, 21h18 (Photos:24)

Rautispitz 2283m via 'Sonnenstube' kombiniert - drei auf einen Streich
Mit der klassischen Spaghetti-Tour will unsere Tour nicht verglichen werden, und die hier beschriebene Tour als Glarner-Spaghetti-Tour zu verkaufen, wäre wohl sehr unglücklich. Zu unterschiedlich sind die beiden Touren von ihrem Charakter her. Bei der Spaghetti-Tour werden in Schnee und Eis über mehrere Tage hinweg auf gut...
Published by 15 August 2015, 21h08 (Photos:23 | Comments:7 | Geodata:1)
Rautispitz Nordwest (Tros) und Wiggis Nord
Die schönen Aussichtsberge Rautispitz und Wiggis sind auf hikr schon auf fast allen Routen beschrieben worden. Hier ein paar zusätzliche Eindrücke zur kürzlich von PStraub erstmals beschriebenen Nordwest (Trosweg) Route auf den Rautispitz. Ausserdem der logische Nordaufstieg auf den Wiggis. Details in den Photos. Etwas...
Published by 30 July 2015, 21h52 (Photos:55 | Comments:1 | Geodata:1)
Geniale Route - "Tros-Weg" am Rautispitz (2283 m)
Vor ein paar Monaten hat mir Bergführer Engg Marti so beiläufig gesagt, am Rauti gebe es eine wenig bekannte, direkte Route (siehe hier). Seine Angaben waren vage, es sei nicht mehr als ein T4 und sogar mit Seilen gesichert. Schon lange hatte ich angenommen, dass man am Rauti irgendwie durch die Nordwand kommen müsste....
Published by 2 July 2015, 09h23 (Photos:11 | Comments:2 | Geodata:1)