Pic dels Aspres 2562 m
8403 ft.
---
Peak in

0 hike reports

, 5 photo(s).
Geo-Tags: AND
Photos (5)
---
By Publication date · Last favs · By Popularity · Last Comment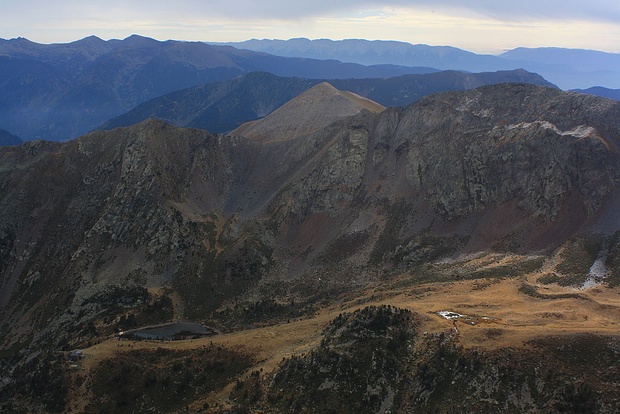 Kaum steht man auf dem Südwestgrat vom Pic de Coma Pedrosa öffnet sich ein phantastischer Ausblick nach Süden. Links unten ist die Hütte Refugi de Comapedrosa (2267m) beim Bergsee Estany de les Truites (2263m). Darüber stehen die Gratgipfel Pic dels Aspres (links; 2562m) und Pic del Port Vell (rechts; 2653m) die voneinander durch die Portella de Comallempla (2503m) getrennt sind. Die Geröllpyramide hinter der Portella de Comallempla ist der Gipfel Alt de la Capa (2572m). Weiter hinten ein Kamm zu sehen der über dem Haupttal Andorras steht, die Gipfel von links nach rechts sind: Pic de Carroi (2333m), Pic d'Enclar (2388m) und Bony de la Pica / Pica d'Os (2402m). Ganz links hinten am Horizont sind die beiden Grenzberge zu Spanien im Süden Andorras gut zu erkennen, es sind links der Tossal de la Truita / Pic de Perafita (2752m) und rechts der Monturull / Torre dels Soldats (2759m). © Sputnik
---
Hikr.org hasn't yet any report for this waypoint.
You can
add a report
now, or look "In the vicinity" list.