Pfälzerhütte / Bettlerjoch 2108 m
6914 ft.
---
Hut in

49 hike reports

, 44 photo(s). Last visited :

28 Aug 16


Geo-Tags: FL
Photos (44)
---
By Publication date · Last favs · By Popularity · Last Comment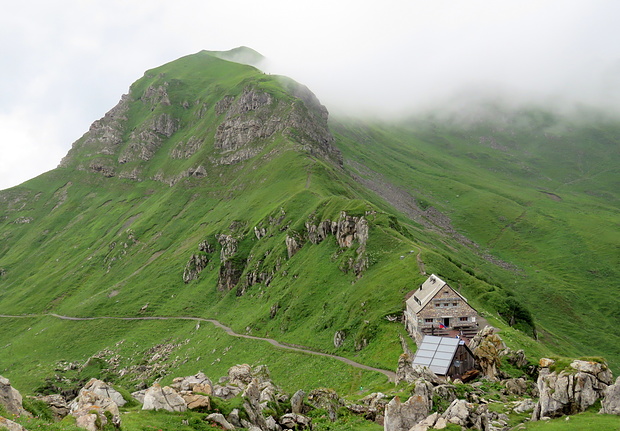 Rückblick zur Pfälzerhütte und zum "Fürstin Gina Weg" (zu Ehren der Fürstin Gina von und zu Liechtenstein), der dem Grat entlang verläuft © Schneemann
Reports (49)
---

Malbuner Panoramarunde - Pfälzer Hütte und Augstenberg
Gerade mal zurück von der 4-Tagestour im Ammergebirge war für das Wochenende eigentlich gemütliches Entspannen unter den heimatlichen Obstbäumen vorgesehen. Ein Anruf aus Buchs stellte dann doch wieder alles auf den Kopf. Den zwei "Neuankömmlingen" schwebte die Erkundung der Liechtensteiner Bergwelt vor. Mein Vorschlag...
Published by 11 September 2016, 20h48 (Photos:39)
Liechtenstein

T4+

I

26 Aug 16

Augstenberg
        Für die heutige Wanderung gibt es einen lockeren Start mit dem Sessellift zum Berggasthaus Sareiserjoch. Das Wetter ist hervorragend, fast wolkenlos, und die Temperaturen bereits am Morgen hoch. Vor dem Start der Wanderung geniessen wir noch ein...
Published by 26 August 2016, 16h37 (Photos:5 | Geodata:1)
| | | |
| --- | --- | --- |
| Liechtenstein | T3+ | 1 Aug 16 |

Naafkopf (2570m) + Malbuner Gipfelrunde
Seltsamerweise war ich noch nie auf dem Dach von Liechtenstein. Dabei ist der Naafkopf über Malbun eigentlich über einen guten Bergweg zu erreichen. Überhaupt wirken die Wanderwege in Liechtenstein äusserst gepflegt, da findet man keine einzige kaputte Stufe oder ähnliches. Der Grossteil der Tour verläuft auf verschiedenen...
Published by 1 August 2016, 20h26 (Photos:28 | Comments:2 | Geodata:1)
| | | |
| --- | --- | --- |
| Liechtenstein | T3 | 28 Jul 16 |

Naafkopf, Grenzpyramide im Blumenmeer
Um 6.15 fahren wir, wegen Bahnsperrung, mit dem Postauto bis Uznach, mit der Bahn nach Sargans und mit dem Liechtensteinerbus 12 E ohne umsteigen bis Malbun. Hier gondeln wir bequem mit dem Sessellift nach Sareis hinauf zum obligaten Bergkaffee. Um 9 Uhr starten wir 5 Wanderer auf dem Fürstin Gina Steig zum Sareiserjoch....
Published by 31 July 2016, 20h31 (Photos:34 | Geodata:1)
Glegghorn - Naafkopf - Gorfion - Augstenberg
Another hot August weekend made a perfect occasion for a two day hike with bivouac in the CH-A-FL border area. Since this area is already well documented on Hikr, I'll limit myself to a few bullet points: ---- * The Älplibahn only has a capacity of 32 people per hour. Getting a reservation for the cable car can be difficult...
Published by 22 September 2015, 18h34 (Photos:57 | Geodata:3)
Liechtenstein

T5

II

8 Aug 15

Gipfelsammeln im Liechtenstein
Dieses Wochenende war es wieder einmal Zeit für einen Besuch auf der Pfälzerhütte, verbunden mit der Besteigung eines noch fehlenden Liechtensteinischen Gipfels, dem Gorfion. Malbun --> Augstenberg (T2) Gestartet sind wir am Samstag Vormittag gegen 11:00 im Zentrum in Malbun. Zuerst folgen wir dem Fahrweg Richtung...
Published by 9 August 2015, 17h44 (Photos:40 | Comments:4 | Geodata:3)
| | | |
| --- | --- | --- |
| Liechtenstein | T3 | 31 Jul 15 |

Liechtenstein von der schönsten Seite: Sareis - Augstenberg -Pfälzerhütte - Valüna - Steg
Hallo werte Hikrinnen und Hikr Was soll man sagen, eine prächtige Rundwanderung mit gewaltigem Rundblick auf die Berge Liechtentsteins, der Schweiz und von Voralberg. Es war ein sehr langer Wunsch von mir mal diese Rundwanderung zu machen, nun packte ich meinen Mut zusammen und begab mich ins Malbun. Mut deshalb, weil ich...
Published by 1 August 2015, 10h01 (Photos:9 | Geodata:1)
Liechtenstein

T5-

PD+

II

11 Jul 15

Vorder Grauspitz (2599) von der Liechtensteiner Seite [Euro Summits]
Im Rahmen unseres gemeinsamen langjährigen Euro-Gipfel - Projektes sollte es dieses Jahr nun Liechtenstein mit dem Grauspitz sein. Der Berg schien bei Hikr meist von der Schweizer Seite begangen zu werden, was uns den Liechtensteinern gegenüber unpassend erschien. Also nach Vaduz und von dort mit dem Bus rauf nach Steg (1303)....
Published by 15 July 2015, 15h41 (Photos:17 | Comments:2)
| | | |
| --- | --- | --- |
| Liechtenstein | T3 | 6 Jul 15 |

Naafkopf, der Hitze entronnen
Unser Motto heute: ab in die Berge, möglichst auf einen windigen Grat, um der Hitze zu entfliehen. Für einmal kommt für die Anfahrt das Auto zum Einsatz, so sparen wir gegenüber den ÖV etwa die Hälfte der Reisezeit ein. Zu dritt fahren wir nach Malbun und gleich mit der ersten Sesselbahn hinauf zum Berggasthaus Sareis....
Published by 8 July 2015, 20h45 (Photos:49 | Comments:2 | Geodata:1)
| | | |
| --- | --- | --- |
| Liechtenstein | T4+ | 8 Oct 14 |

Hinter Grauspitz
        Am frühen Morgen starten wir noch in der Dunkelheit inSteg, beim Parkplatz Skilift. Das Ziel für heute ist die Besteigung der höchsten Lichtensteiner Berge, die Grauspitzen. Bereits am Start weht uns ein kühler Wind entgegen. Auf einer...
Published by 8 October 2014, 21h39 (Photos:20 | Geodata:1)