Passo Campolungo 2318 m
7603 ft.
---
Pass in

12 hike reports

, 25 photo(s). Last visited :

26 Jun 16


Geo-Tags: Gruppo Pizzo Campolungo, CH-TI
Photos (25)
---
By Publication date · Last favs · By Popularity · Last Comment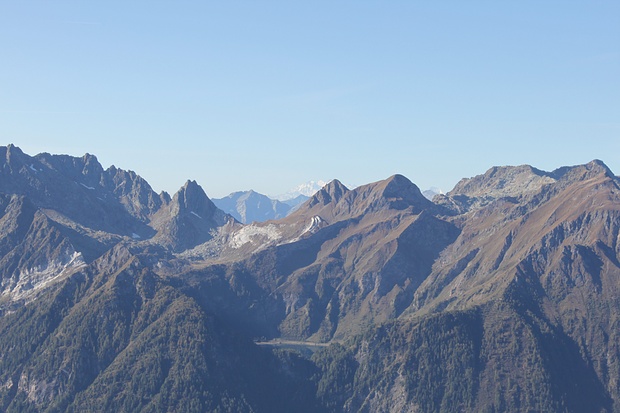 Passo Venett, Pizzo Prévat, Passo Campolungo e Pizzo Meda. Si nota la caratteristica piega nella dolomia saccaroide e nei marmi dolomitici del Passo Campolungo. © siso
Reports (12)
---
Bellinzonese

T2

5b

26 Jun 16
Spigolo Nord Est al Piz Prevat
Era da parecchio tempo che avevamo questa montagna nel mirino e da qualche weekend il tempo inclemente non ci permetteva di tentare l'assalto poi finalmente il bel tempo e così saliamo in macchina. Direzione Piz Prevat. Arriviamo puntuali per la prima corsa della teleferica che da Rodi sale al lago Tremorgio, da qui seguendo...
Published by 5 July 2016, 12h20 (Photos:27 | Comments:12)

Passo di Campolungo (m 2318) e Capanna Leit (m 2257): anello.
Escursione gratificante e poco impegnativa. Interessanti le fioriture e la conformazione geologica della zona, rinomata per la presenza di minerali con bei cristalli contenuti negli affioramenti di dolomia saccaroide triassica: le caratteristiche rocce grigio chiaro o bianche. Nelle vicinanze dell'Alpe Campolungo non sono rari i...
Published by 20 July 2015, 23h52 (Photos:16 | Geodata:1)

Fusio - Tremorgio (vom VAVM in die Leventina)
Für einen Wanderer aus dem Norden (Nordschweiz/Deutschland) ist Fusio ein recht ungünstiger Endpunkt, da man mit dem Bus in fast 2 Stunden nach Locarno fahren müsste. Eher bietet es sich an, das Val Lavizzara über den Passo Campolungo in die Leventina zu verlassen. Hierzu wandert man von Fusio talaufwärts über eine Brücke...
Published by 24 June 2015, 10h07 (Photos:16)
Bellinzonese

T5-

5b

21 Jun 15

Pizzo del Prévat - NE Kante
Einmal mehr war in der Deutschschweizschlechtes Wetter angesagt, also ab ins Tessin. Klettern im Tessin kenne ich bis anhin nur von den diversen Klettergärtenin denen ich schon mal war. Es sollte aber etwas alpines sein und nach kurzer Suche bin ich auf den Bericht von Alpin_Risegestossen. Klingt gut, also los.Mit der ersten Bahn...
Published by 22 June 2015, 22h47 (Photos:26)
| | | |
| --- | --- | --- |
| Bellinzonese | T4 | 12 Sep 13 |

Vom Lago Tremorgio über den Pizzo Meda zum Lago di Mognòla
Hier meine Geburtstagstour, mein Geburtstagsgeschenk nur für mich. Geplant waren 5 Tage, daraus wurden nur drei, wegen Wetterumschlages. Route: Tag 1: Capanna Tremorgio, Passo Campolungo, Pizzo Meda, Alpe Zaria, Cima di Sassalto, Corte della Sassina Tag 2: Corte della Sassina- Pizzo Canà und zurück Tag 3: Lago Mognòla,...
Published by 16 March 2014, 00h26 (Photos:60)
Locarnese

T3

V-

20 Sep 12

Tentativo al Piz del Prévat per la via "I dü Matt"
gbal (Giulio) scrive: Preambolo: L'occasione: prima gita con Laura dopo il suo incidente e dopo un tempo infinito. Il tempo a disposizione: pochissimo La meta: stuzzicante Le forze: quel che basta La compagnia: la migliore La meteo: bellissima Il risultato: un bel minestrone….la Via "I...
Published by 21 September 2012, 22h35 (Photos:20 | Comments:26 | Geodata:1)
Locarnese

T6-

II

30 Jul 12

Trek de 5 jours entre Verzasca et Léventine
Nous avons réalisé ce trek en autonomie complète. Toutefois, notre itinéraire étant parsemé de refuges gardé et non gardés, il est parfaitement réalisable sans emporter de tente et de provisions. Etape 1: Frasco (Val Verzasca) - Alpe della Costa Distance: 3.17km Altitude: 885m à 2030m Dénivelé...
Published by 12 July 2013, 22h43 (Photos:46 | Comments:1 | Geodata:1)
| | | |
| --- | --- | --- |
| Bellinzonese | T3+ | 10 Sep 11 |

Von Dalpe über Passo Campolungo zur Tencia Hütte
Eine wunderschöne Tour, in einem ganz wilden Gebiet mit spektakulären Tiefblicken. Obwohl Wochenende war, sind wir insgesamt vielleicht 10 Leuten begegnet, was aber auch mit dem mittelmäßgen Wetter zusammenhängen kann. Die Tour erfordert allerdings ordentliche Kondition. Wer aus dem Flachland mit unerfahrenen Leuten anreist,...
Published by 22 September 2011, 23h16 (Photos:17 | Geodata:1)

Von Dalpe nach Fusio und Sonogno
Auf der Alpennordseite spielt das Wetter wieder einmal verrückt und so entschliessen wir uns drei Tage in der Sonnenstube Tessin zu verbringen. Allzu viele Höhenmeter wollen wir zwar nicht machen und uns in bewarteten Hütten verpflegen zu lassen. So finden wir nach langem hin und her eine für uns geeignete Tour...
Published by 3 September 2010, 00h40 (Photos:30)
| | | |
| --- | --- | --- |
| Bellinzonese | 6c | 22 Jul 10 |

Osogna Climbing (instead of Pizzo del Prevat, Spigolo NE)
Prologue Pizzo del Prevat is one of the classical and well known Ticino climbs. The mountain dominates the scene in the region around PassoCampolungo and climbers can often be seen from the capanna Leit. The plan was to climb Piz del Prevat via the fantastic route Spigolo NE (9 SL, 5b obl) and down the normal route. The weather...
Published by 21 August 2010, 02h49 (Photos:11)