Obersee 983 m
3224 ft.
---
Lake in

61 hike reports

, 77 photo(s). Last visited :

6 Oct 18


Geo-Tags: CH-GL, Oberseegruppe
Photos (77)
---
By Publication date · Last favs · By Popularity · Last Comment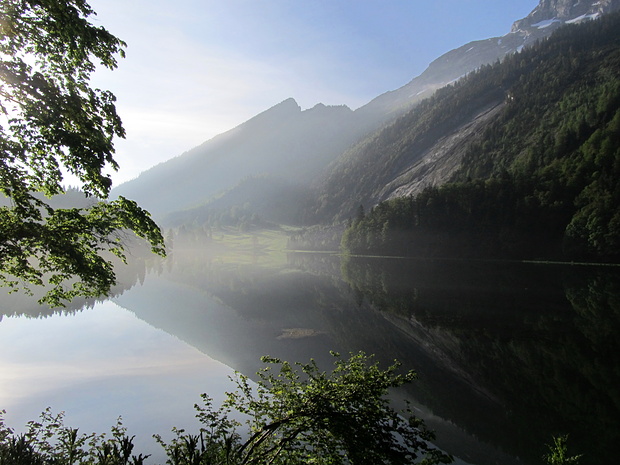 Morgenstimmung am Obersee. Die Sonne begleitete uns vom Start weg den ganzen Tag hindurch © alpstein
---
Reports (61)
---

Rautispitz - Wiggis
Trailrun an einem grauen Herbstmorgen auf die Paradegipfel des Obersee-Tals, mit ein paar Abstechern Es ist mehr als 15 Jahre her, dass ich das letzte Mal über den Geisschappel-Weg zum Rautispitz gewandert bin - für die dominierende Position des Berges und die gute Erreichbarkeit eigentlich viel zu lange her. Diesmal machte...
Published by 7 October 2018, 12h49 (Photos:11)

Vom Talboden auf den Rautispitz direkt durch die Ostwand
Schon oft habe ich die Wände am Wiggis beim Vorbeifahren angeschaut. Als ich dann hier, auf Hikr, von "älteren Herren" gehört habe die erzählen sie seien in jungen Zeiten direkt durch die Wiggiswand, hat es mich gepackt. Mit Justus habe ich dann ein Gleichgesinnter gefunden der mich mit seinen gesammelten Bilder unterstützt...
Published by 21 September 2018, 11h44 (Photos:40 | Comments:15)

Obersee - Rautispitz 2283 Meter - Rautialp - Obersee
Eine herrliche Rundwanderung mit abwechslungsreichem Gelände und tollen Aussichten! Wir starten in der Dämmerung am Morgen beim Restaurant Obersee. Nach dem wir die andere Seeseite erreicht haben steigen wir auf einem sehr steilen Fahrsträsschen durch den Grappliwald hoch. Nach Verlassen des Waldes führt das Strässchen...
Published by 10 September 2018, 23h40 (Photos:46 | Comments:3)

Die eine Hälfte des Obersee
Ich wollte an diesem Samstag eine grosse Tour machen mit über 4300hm. Geplant war eine Rundtour um den Obersee. Das heisst auf den Tierberg aufsteigen und von dort alles über den Grat bis nach hinten zum Ochsenkopf. Von dort möglichst wenig Höhenverlust rüber zum Twirren-Dejenstock rüber zum Schijen und von dort zur...
Published by 17 July 2018, 15h17 (Photos:38 | Comments:8)

Rautispitz 2283 m.ü.M.
Vom Parkplatz Obersee machte ich mich auf den Weg in Richtung Rautispitz. Der Aufstieg wollte ich durch den felsigen Wald via Geisskappel angehen. Zu Beginn verläuft der Weg auf einer Alpenstrasse, gut um warm zu werden. Alsbald es dann steiler und felsiger wird. Der Weg ist super spannend und nirgend sehr anspruchsvoll, man...
Published by 14 June 2018, 20h20 (Photos:10 | Comments:2)
Vom Obersee auf den Tierberg und zurück
Mit dem Auto fuhren wir von Näfels bis ans Ende des Obersee und begannen da unsere Tour. Direkt ging es hoch bis nach Vorderahornen. Darauf folgte ein sehr steiler Anstieg bis zum Geerenchöpf. Mittagpause war angesagt. Neben einem traumhaften Panorama, konnten wir sogar einen Adler ausmachen. Weiter ging es der Krete nach bis...
Published by 12 May 2018, 20h00 (Photos:2 | Geodata:1)

S(t)eil ist geil - Rauti und Wiggis gerade hinauf
"Geiz ist geil", heisst es bei unseren nördlichen Nachbarn. Ich halte es da eher mit dem Weisen, der meinte, von allen Todsünden würden sich nur Völlerei und Unzucht überhaupt lohnen. Und finde darum - wahlweise - "steil" oder "Seil" viel netter. In den direkten Nordrouten auf Rauti und Wiggis hat es von beidem:...
Published by 2 August 2017, 19h39 (Photos:9 | Comments:1)
Osterzelten am Obersee
Die Wetterprognosen für dieses Osterwochenende liessen begrenzten Spielraum für alpine Unternehmungen. Mit einem Zeltausflug sowie der Tierberg/Bockmattli Rundtour haben wir alles richtig gemacht. Einzig der Karfreitag schien einigermassen geeignet für einen lohnenswerten Bergtag an diesem Osterwochenende. Nichts desto trotz...
Published by 16 April 2017, 23h39 (Photos:11)

Wiggis-Rautispitz
  Start: Rhodannenberg (Klöntal) 848m - bus from Glarus. End: Obsersee 992m - no bus. Hitchike or walk. Climb: 1622m/1486m Distance: 12km Time: 7:13. GPS Map Photographic Album   The Wiggis is a prominent grassy peak in the Glarus alps. There are many ways to reach it, but I took the path...
Published by 14 August 2016, 22h53 (Photos:19 | Comments:1 | Geodata:1)

Obersee-Rautispitz, ohne Wiggis-Obersee
ganz Oktober war ich nicht auf dem Gipfel. Daher wusste ich gar nicht was der Schnee sich so treibt. Am Dienstag war ich schnell auf Mattstock um den Schneestand zu prüfen. Es sah nicht schlecht aus..... Nun Rautispitz ins Auge gefasst und gestartet. Obersee-Grapplialp Typisch Glarnerland. Von Anfang an sehr steil. Dafür...
Published by 7 November 2015, 12h26 (Photos:14 | Comments:3)