Niederschlag 1292 m
4238 ft.
---
Other in

75 hike reports

, 1 photo(s). Last visited :

27 May 16


Geo-Tags: CH-SG, Speer-Mattstock
Photos (1)
---
By Publication date · Last favs · By Popularity · Last Comment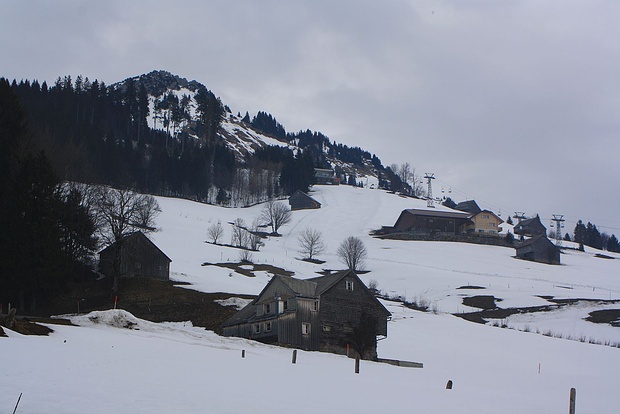 Obwohl erst Ende März ist, hat die Sesselbahn den Winterbetrieb eingestellt. Auf der Piste hätte es jedoch noch genügend Schnee um Ski zu fahren. Oberhalb der Bergstation Niederschlag (1292m) ist der Westgipfel des Raaberg (1779m), dahinter der bewaldetete und mit 1723m niedrigere Hautgipfel. © Sputnik
Reports (75)
---

Speer - Mattstock (ÖV)
Mit Bahn und Bus nach Weesen Post (an 8:10) Aufstieg zum Speer über Hundsiten - Salen - Gufler - Matt - Unterbütz - Saumchengel - Oberkäseren (8:10 - 10:35) Weiter über Hintere Höhe - Walau zum Mattstock Abstieg nach Niederschlag, mit Sesselbahn nach Amden, mit Bus und Bahn zurück (Amden Post ab 15:34)
Published by 30 May 2016, 09h19 (Photos:81)
St.Gallen

T5+

II

21 May 16

Raaberg
The Raaberg, the easternmost summit of the Mattstock massiv, is only rarely climbed. When it is visited, then usually by either 360 or carpintero, it seems. The Raaberg has an east summit (P. 1723) and a west summit (P. 1779). Only the east summit is named on the map and described in the SAC Clubführer. Strange, because the west...
Published by 21 May 2016, 21h04 (Photos:42 | Comments:2 | Geodata:1)

Der frühe Vogel fängt den Wurm: auf den Mattstock (1936 m)
Nachdem die ganze Woche mildes Herbstwetter herrschte, hielt mich am Sonntag nichts mehr zu Hause. Am Samstagabend habe ich der Familie eröffnet, dass ich um 7 Uhr aufstehen werde und zum Mittagessen um 14 Uhr wieder zurück sei. Der Mattstock erschien mir ein idealer Kandidat: nicht zu hoch, d. h. kein Schnee, Ausrichtung nach...
Published by 8 November 2015, 21h07 (Photos:7)

Speer, 1951m - Rund um den Mattstock
Nach der gestrigen Bike-Tour, machen wir uns heute wieder mit den Wanderschuhen an den Füssen auf. Rund um die Mattstöcke und auf den Speer steht auf dem Programm. Mit diesem Gedanken waren wir wohl nicht alleine. An der Sesselbahn in Amden war schon einiges los. Doch bereits nach wenigen Minuten liessen wir uns gemütlich...
Published by 1 November 2015, 23h01 (Photos:32)
St.Gallen

T5

4+

31 Oct 15

Mattstock 1936m (via "Memory" 4c & "Gipfelstürmer" 4b)
Scharfkantiges Genussklettern in der Zentralen Platte des Mattstock Die Gegend um Amden bzw. Mattstockgilt längst nicht mehr als Geheimtip in der Kletterszene - im Gegenteil. Diverse Kletterspots verführen den geübten oder eben auch weniger geübten Kletterer in den tollen, süd(ost)seitig gelegenen Wasserrillenkalk -...
Published by 3 November 2015, 22h00 (Photos:22 | Geodata:1)

Mattstock (1936m)
Geplant war eigentlich eine Wanderung auf den Altmann. Doch weil wir ein wenig zu spät wach wurden, das Wetter sehr heiss war und ich mich auch krank fühlte, wurde es dann doch nur der Mattstock :) Amden --> Mattstock (T2) Gestartet sind wir relativ spät in Amden. Weil es wie schon erwähnt spät und heiss war, haben wir...
Published by 1 September 2015, 09h07 (Photos:11 | Comments:5 | Geodata:1)
St.Gallen

T5-

II

27 Aug 15

Raaberg
Angeregt durch den Kommentar von 360 zu meiner letztjährigen Tour Raaberg und Mattstock via Nordostgrat, haben wir heute auf dem Raaberg Westgipfel ein Gipfelbuch deponiert. Es befindet sich in einem kleinen Steinmannli auf der Nordseite vom Gipfelfelsen mit dem stilisierten Pickel. Das Buch selbst ist zusammen mit...
Published by 2 September 2015, 08h54 (Photos:27 | Comments:1 | Geodata:1)

Sur le Chemin panorama alpin : Cinquième étape, de Stein à Amden (avec variante par le Gulmen)
English version here Cotation T2 uniquement pour la descente du Gulmen, sinon T1. Pour la dernière fois, je fais les trois heures de trajet jusqu'au canton de Saint-Gall. Le point de départ des prochaines étapes de ma randonnée du lac de Constance au Léman sera plus près de la maison, et je ne m'en plaindrai pas !...
Published by 30 June 2015, 20h24 (Photos:19)
St.Gallen

T5

V+

25 Jun 15

Wasserrillenweg am Mattstock (5 SL, ca. 170 m)
Bei schönem Wetter ging es zu den Südostwandplatten am Mattstock. Ursprünglich wollten wir den Wasserrillenweg klettern - da aber bereits eine Seilschaft in der Route die Gelb zugange war und die erste SL bei beiden Routen fast identisch ist, begannen wir mit der Route daneben (die erste SL dürfte sich auch von der...
Published by 27 June 2015, 09h55 (Photos:11)
St.Gallen

T5

II

18 May 15

Walenstein, Mattstock und Raaberg
Zuerst auf der Fahrstrasse bis zur Durschlegi, danach auf einer Forststrasse zur Alp Unterfurggeln und schliesslich auf dem Wanderweg erreiche ich die Alp Oberfurggeln. Ich kann die grasige Aufstiegsrinne von hier gut einsehen (Bild) und steuere sie nach einer kurzen Verschnaufpause direkt an. Etwas zu früh steige ich auf und...
Published by 21 May 2015, 22h50 (Photos:23 | Geodata:1)