Niederschlag 1292 m
4238 ft.
---
Other in

80 hike reports

, 1 photo(s). Last visited :

13 Aug 16


Geo-Tags: CH-SG, Speer-Mattstock
Photos (1)
---
By Publication date · Last favs · By Popularity · Last Comment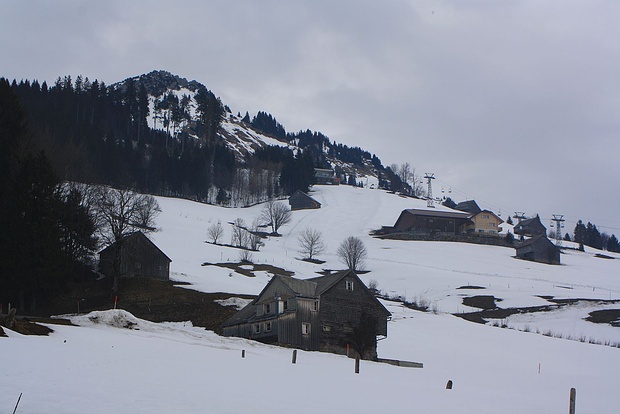 Obwohl erst Ende März ist, hat die Sesselbahn den Winterbetrieb eingestellt. Auf der Piste hätte es jedoch noch genügend Schnee um Ski zu fahren. Oberhalb der Bergstation Niederschlag (1292m) ist der Westgipfel des Raaberg (1779m), dahinter der bewaldetete und mit 1723m niedrigere Hautgipfel. © Sputnik
Reports (80)
---
St.Gallen

T5

4+

13 Aug 16

Klettern am Mattstock
Wieder einmal zum Plattenklettern am Mattstock – Plaisir pur Die Zentrale Platte am Mattstock ist nach wie vor ein ideales Ziel um gemütlich auf den Kletterfinken rumzutanzen. Die Absicherung ist bestens, die Schwierigkeiten moderat und die Felsqualität bestechend. Nach den vielen Berichten zu diesen lohenden...
Published by 19 August 2016, 09h05 (Photos:6)

kids and sleep and hike: Oberchäseren mit Speer
Solange das Kind redet, ist es nicht müde. Erstaunlich: Filius kann mir auf 300 Höhenmetern ausführlichst, detailreich und mit Hilfe blumiger Begriffe erläutern, dass er nicht mehr gehen kann und demnächst zusammenbrechen wird. Zum Glück -also zu meinem Glück, denn nun bin ich nahe am Zusammenbruch, nämlich am...
Published by 10 August 2016, 20h23 (Photos:9 | Comments:1)

Schänis Rundtour +
Das gute liegt so nah. Alle Berggipfel rund um Schänis war schon lange auf meiner Projektliste. Eigentlich gerne auch den Nüenchamm, aber der war mir dann zu heftig nochmals gut 2000hm dazu zu nehmen. Der Mattstock würde zwar auch nicht in die Rundung passen, aber den wollte ich nicht auslassen. Planggenstock Gestartet...
Published by 20 July 2016, 21h23 (Photos:24 | Comments:3 | Geodata:1)

Mattstock
Amden - Durschlegi - Unterfurgglen - Oberfurgglen - Mattstock - Niederschlag - Sessellift nach Amden - Hinterbetlis - Vorderbetlis - Rinquelle - Flihof. Das obere Wegstück auf den Amden führt durch charakteristische Lawinenverbauungen. Der Weg von Amden nach Betlis ist wunderschön und im unteren Teil etwas mediterran...
Published by 18 September 2016, 17h37 (Photos:28)

Mattstock 1936m
Den schönen Tag heute vor der angekündigten Hitzewelle wollte ich nochmals für eine einfache Wanderung nutzen. Allerdings war dann das Wetter doch nicht so sonnig wie vorhergesagt. Die ersten Sonnenstrahlen erreichten mich erst kurz vor dem Gipfel des Mattstock. Gleich bei der Bushaltestelle Amden-Post befinden sich die...
Published by 8 July 2016, 18h12 (Photos:20)

Speer - Mattstock (ÖV)
Mit Bahn und Bus nach Weesen Post (an 8:10) Aufstieg zum Speer über Hundsiten - Salen - Gufler - Matt - Unterbütz - Saumchengel - Oberkäseren (8:10 - 10:35) Weiter über Hintere Höhe - Walau zum Mattstock Abstieg nach Niederschlag, mit Sesselbahn nach Amden, mit Bus und Bahn zurück (Amden Post ab 15:34)
Published by 30 May 2016, 09h19 (Photos:81)
St.Gallen

T5+

II

21 May 16

Raaberg
The Raaberg, the easternmost summit of the Mattstock massiv, is only rarely climbed. When it is visited, then usually by either 360 or carpintero, it seems. The Raaberg has an east summit (P. 1723) and a west summit (P. 1779). Only the east summit is named on the map and described in the SAC Clubführer. Strange, because the west...
Published by 21 May 2016, 21h04 (Photos:42 | Comments:2 | Geodata:1)

Der frühe Vogel fängt den Wurm: auf den Mattstock (1936 m)
Nachdem die ganze Woche mildes Herbstwetter herrschte, hielt mich am Sonntag nichts mehr zu Hause. Am Samstagabend habe ich der Familie eröffnet, dass ich um 7 Uhr aufstehen werde und zum Mittagessen um 14 Uhr wieder zurück sei. Der Mattstock erschien mir ein idealer Kandidat: nicht zu hoch, d. h. kein Schnee, Ausrichtung nach...
Published by 8 November 2015, 21h07 (Photos:7)

Speer, 1951m - Rund um den Mattstock
Nach der gestrigen Bike-Tour, machen wir uns heute wieder mit den Wanderschuhen an den Füssen auf. Rund um die Mattstöcke und auf den Speer steht auf dem Programm. Mit diesem Gedanken waren wir wohl nicht alleine. An der Sesselbahn in Amden war schon einiges los. Doch bereits nach wenigen Minuten liessen wir uns gemütlich...
Published by 1 November 2015, 23h01 (Photos:32)
St.Gallen

T5

4+

31 Oct 15

Mattstock 1936m (via "Memory" 4c & "Gipfelstürmer" 4b)
Scharfkantiges Genussklettern in der Zentralen Platte des Mattstock Die Gegend um Amden bzw. Mattstockgilt längst nicht mehr als Geheimtip in der Kletterszene - im Gegenteil. Diverse Kletterspots verführen den geübten oder eben auch weniger geübten Kletterer in den tollen, süd(ost)seitig gelegenen Wasserrillenkalk -...
Published by 3 November 2015, 22h00 (Photos:22 | Geodata:1)