Mont Blanc 4810 m
15777 ft.
---
Peak in

49 hike reports

, 650 photo(s). Last visited :

13 Aug 16


Geo-Tags: F
Photos (650)
---
By Publication date · Last favs · By Popularity · Last Comment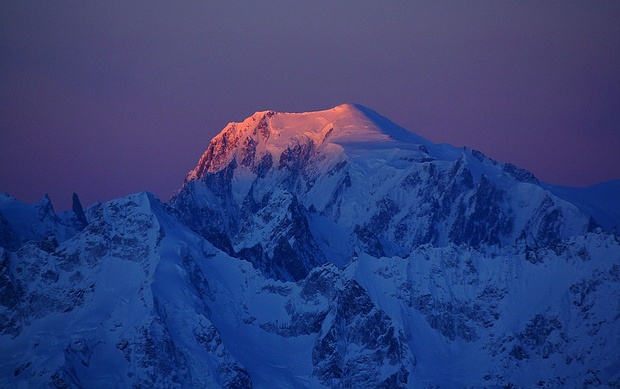 Sonnenaufgang auf dem Mont Fort (3329m): Endlich die ersten Sonnenstrahlen! Logischerweise wird zuertst der höchste Alpengipfel Mont Blanc (4810,45m) beleuchtet. Sein linker Vorgipfel ist der Mont Blanc de Courmayeur / Monte Bianco di Courmayeur (4748m). © Sputnik
Reports (49)
---
Massif du Mont Blanc

PD

II

13 Aug 16

Mont Blanc - zum 18. Geburtstag meines Sohnes
Tourenberichte über den Mont Blanc gibt es genügend, erst recht über die Standardroute. Ich wage hier nur zu schreiben, weil neben dem Bergerlebnis, und das kann auch am Mont Blanc trotz aller Massen und auch Hässlichkeiten am Wegesrand ein intimes sein, diesmal noch ein besonderes Moment hinzu kam: Mein jüngster Sohn hatte...
Published by 16 August 2016, 19h37 (Photos:23 | Comments:8)
| | | |
| --- | --- | --- |
| Massif du Mont Blanc | AD- | 7 Aug 16 |

Mont Blanc 4810 - Via del Papa
Sono le 00.50 e partiamo dal Rifugio Gonella a 3072 mt verso il Ghiacciaio del Dôme, alla luce delle frontali. Seguiamo un'agevole traccia e nel fascio di luce compaiono a tratti un crepaccio, colate di neve congelata, un muro di ghiaccio. Davanti a noi le luci di altre cordate lasciano intuire il pendio sotto un cielo buio ed...
Published by 11 August 2016, 17h09 (Photos:31 | Comments:22)
Massif du Mont Blanc

AD-

II

3 Aug 16

Mont Blanc (4810 m) Überschreitung: Rifugio Gonella -> Aiguille du Midi
Zum Mont Blanc als Tourenziel etwas zu sagen ist eigentlich überflüssig. Wie man jedoch hoch kommt, dazu gibt es vermutlich genauso viele Ansichten wie Möglichkeiten. Unsere Entscheidung fiel auf den italienischen Normalweg über das Rifugio Gonella. Hier startet man auf 1700 HM im hinteren Val Veny und arbeitet sich Stück...
Published by 11 August 2016, 17h03 (Photos:37)
Massif du Mont Blanc

T5+

PD+

II

30 Jul 16

Mont Blanc via Mer de Glace und Cosmique Route
Das Dach Europas: Der Mont Blanc, der höchste Gipfel der Alpen, ein Gipfel der alles überragt, was man sehen kann. Ein erstrebenswertes Ziel also. So denken viele und ein dementsprechender Auflauf an Menschen ist auf dem Gipfel auch anzutreffen. So zumindest mein erster Eindruck als ich mir Videos und Bilder unseres Zieles im...
Published by 4 September 2016, 14h04 (Photos:9 | Comments:2)
Massif du Mont Blanc

AD

II

28 Aug 15

Überschreitung Mt. Blanc du Tacul - Mont Maudit - Mont Blanc
Die "Voie des Trois Monts" ist eine wunderschöne Hochtour auf das Dach der Alpen. Die Überschreitung beginnt auf der Aiguilles du Midi und zählt zu den Klassikern im Mt-Blanc-Massiv. Allerdings ist die Tour recht hohen objektiven Gefahren ausgesetzt, vor allem nach Neuschneefällen herrscht oft mehrere Tage akute Lawinengefahr....
Published by 12 September 2015, 19h21 (Photos:32 | Geodata:1)
Massif du Mont Blanc

T5

PD

II

1 Jul 15

Mont Blanc
Die Besteigung des Mont Blanc war schon seit langem ein Traum; dass es gleich beim ersten Versuch geklappt hat, erfüllt mich mit tiefer Freude und Dankbarkeit. Es ist mir wohl bewusst, dass bei diesem Gipfelerfolg für mich als "normalen" Bergsteiger zwei günstige Faktoren zusammen passten: Die äußeren Bedingungen waren...
Published by 6 July 2015, 23h15 (Photos:80 | Comments:5)
Massif du Mont Blanc

T3

PD

II

27 Sep 14

Ziel: Mont Blanc (4810 m)
Spontane Entscheidung, Tourenplanung mit leichten Hindernissen und Ausrüstungsfragen Schon lange wollte ich mich mit der Tour auf den Mont Blanc mal konkreter beschäftigen, aber da ich kein Freund von überfüllten Hütten und Massenandrang bin hab ich´s immer wieder verworfen. Letztlich war der Wunsch, einmal dort oben zu...
Published by 3 November 2014, 20h26 (Photos:116 | Comments:20)
Massif du Mont Blanc

PD

II

26 Sep 14

...auf dem Dach der Alpen
Mont Blanc, höchster Berg der Alpen! ...es ist geschafft, zusammen mit meinem Bergfreund Dirk stehe ich am Freitag, dem 26.09.2014 morgens um 08:00 Uhrauf demMont Blanc. Andreas und sein Bergführer Stefan Schanderl stehen unweit von uns und plaudern in das digitale Aufnahmegerät. Andreas erstellt hier eine Reportage für den...
Published by 30 September 2014, 19h18 (Photos:98 | Comments:7)
| | | |
| --- | --- | --- |
| Massif du Mont Blanc | II | 27 Jul 14 |

Mont Blanc ascent with optimal conditions
We had a beautiful ascent to the Mont Blanc from Jul 24 - 27. The conditions (in the Grand Couloir and climbing up/down Aiguille du Goûter) were excellent: there was a little snow and there were not many people in this part of the route. On Jul 27 - as you may see from the pictures - there were a lot of people on the summit....
Published by 29 July 2014, 13h22 (Photos:15)
| | | |
| --- | --- | --- |
| Massif du Mont Blanc | PD | 17 Jul 14 |

Mont Blanc und kotzende Japaner
Der Höchste der Alpen. Kurz gesagt. Und ebenso kurz realisiert. Meine mehr oder weniger erste Hochtour und das soll sie diesen Sommer auch bleiben. Die einzige schöne Periode erwischten wir glücklicherweise am 17. Juli 2014. Davor und danach war schlecht. Aber an diesem Tag war der Himmel wolkenlos. Um 2 Uhr in der Tete...
Published by 7 September 2014, 22h40 (Photos:7)