Kala Patthar 5675 m
18614 ft.
---
Peak in

11 hike reports

, 10 photo(s). Last visited :

27 Nov 16


Geo-Tags: NEP
---
Photos (10)
---
By Publication date · Last favs · By Popularity · Last Comment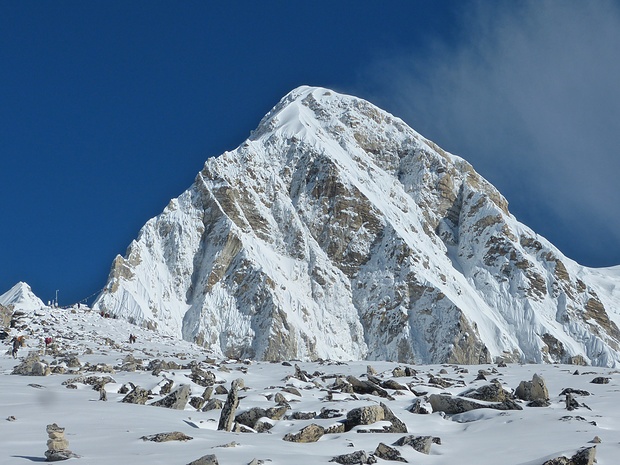 es ist schon fies wenn man sich auf 5550m befindet und dieser Riese direkt dahinter emporragt ;-) © Andy84
Reports (11)
---

Khumbu 3 passes treks
Long trek Father and Son with the pleasure guide of Nima Lama, we start on Lukla sleeping the first night on Phakding, where we experienced 10 terrible seconds on the earthquake. The following 2 days in Namche and the villages around it, the day after we moved out of the main street to Thame, Thame teng and Lungdhen. the day...
Published by 19 December 2016, 20h40 (Photos:4)

Dem Mount Everest so nah - Trekkingtour auf den Kala Patthar (5550m)
Der Mythos Mount Everest. Schon lange war es ein großer Wunsch unsererseits das "Dach der Welt" einmal live zu erleben. Das sich dieser Traum allerdings so schnell erfüllen würde, damit haben wir vor einem Jahr noch nicht gerechnet. Dafür war es dann umso schöner als es soweit war. Schon mal als Vorwarnung, es folgt ein...
Published by 21 January 2015, 11h47 (Photos:231 | Comments:11)

Gokyo Khumbu Trek Part 3: High Khumbu encounters
To Part 2: from Gokyo to Khumbu Trekking in the Khumbu in April 2014 with our Sherpas, while the most deadliest accident ever on Everest was unfolding a few kilometers up the valley, was quite special and probably different than any other year. My great sorrow goes to the families that witnessed a loss, in the hope that this...
Published by 25 May 2014, 18h52 (Photos:16)

Everest Trek - From Jiri to Base Camp
This is one of the classic treks of the world with stunning mountain scenery. 1) 06-ott Kathmandu-Jiri-Sivalaya (Mali Danda pass 2430) km 8.7 2) 07-ott Sivalaya-Bhandar (Deurali 2730) km 10 3) 08-ott Bhandar-Sete (Kinja 1580) km 10 4) 09-ott Sete-Junbesi (Lamjura la 3530) km 10 5) 10-ott Junbesi-Nhuntala (Taksindu la 3071) km...
Published by 31 January 2017, 18h50 (Photos:9 | Geodata:1)

Kala Patthar 5550 m
Wir marschierten um 6:00 Uhr früh bei kühlen Temperaturen in Lobuche los nach Norden. Über lange Ebenen stieg es dann einen Hang hoch und über einen "versteinerten" Gletscher nach Gorak Shep. Nach einer kurzen Pause stiegen wir langsam über die sanften Hänge an Richtung Pumo Ri. Nach einer weiteren Ebene stieg es zum...
Published by 26 November 2012, 22h25 (Photos:16 | Comments:1)

Everest Trek Teil 3 – Cho La und Kala Pattar
18. Oktober 2011 Überquerung des Ngozumpa-Gletscher Gestern haben wir vom Gokyo Ri den mächtigen Ngozumpa-Gletscher, der sich vom Cho Oyu herunterzieht, gesehen. Heute haben wir eine scheinbar lächerlich kurze Strecke zu bewältigen, wir müssen nur den Gletscher überqueren. Auf der anderen Seite des Gletschers liegt kurz...
Published by 28 August 2012, 13h34 (Photos:117 | Comments:2)

Von Lukla zum Everest Base Camp und zum Island Peak
Vom 22. März bis 15. April startete das große Abenteur Nepal. Geplant war eine Reise zu den großen 8000ern, zum Everest Base Camp und die Besteigung diverser hoher Gipfel. Jetzt bin ich wieder zurück und es war das große Abenteuer. Schon auf dem Flug von Kathmandu nach Lukla ging es vorbei an der gewaltigen Kulisse der hohen,...
Published by 21 April 2011, 10h33 (Photos:145 | Comments:3)

Der Kala Pattar (5545 m), der TOP-Aussichtsgipfel zum Mount Everest
Nach mehr als 5 Jahren endlich wieder in Nepal. Die Tour leider zeitlich etwas knapp bemessen auch bezüglich der Höhenakklimatisierung, aber nach intensiver Routenüberlegung sollten wir eine gute Chance haben, den Kala Pattar zu erreichen - und damit den mindestens von nepalesischer Seite mit Abstand...
Published by 15 May 2008, 01h39 (Photos:91)
Trekking-Tour im Khumbu-Gebiet
Allgemeines: Die Tour habe ich mit einer organisierten Gruppe im Frühjahr 2008 gemacht. Die Island Peak-Besteigung ist in einem separaten Bericht beschrieben, der Wegpunkt des Island Peaks ist deshalb im vorliegenden Bericht ausgelassen: http://www.hikr.org/tour/post58086.html Anfahrt: Mit demFluzeug von Frankfurt...
Published by 6 October 2012, 16h10 (Photos:48 | Comments:3)

Trekking in Nepal - Kala Pattar (5545m)
  Trekkingquasi interamente all'interno del parco nazionale del Sagarmatha (nome nepalese dell'Everest) dove ci sono le vette più alte del mondo: Everest (8848m), Lhotse (8414m), Nuptse (7861m), Pumo Ri (7165m) e quelle più belle come l' Ama Dablam (6856m). Questo trekking non presenta difficoltà alpinistiche, è senza...
Published by 17 June 2010, 13h56 (Photos:72 | Comments:1)