Gfroren Horn 2746 m
9007 ft.
---
Peak in

7 hike reports

, 41 photo(s). Last visited :

26 Jul 19


Geo-Tags: CH-GR
Photos (41)
---
By Publication date · Last favs · By Popularity · Last Comment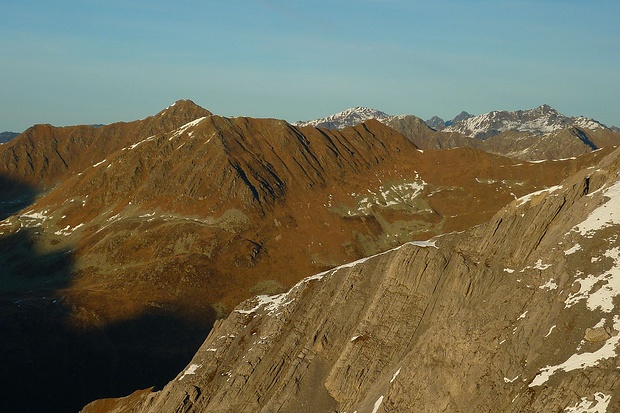 Die Abendsonne beleuchtet das Gfroren Horn (2746m) welches direkt vor dem Wuosthorn (2815m) mit seinem Nebengipfel Felahorn (links; 2729m) steht. Rechts hinten ist das Pischahorn (2980m). © Sputnik
---
Reports (7)
---
Gfroren uf e Sattel
Ein paar Tage Ferien in Davos Laret, wo die Grosseltern ein Haus und auch unsere Kinderchen hüten - dadurch zwei gemeinsame Bergfahrten, herzlichen Dank! Das Angebot führt uns in eine Gegend, die sonst nicht in mein primäres Beuteschema passt, indes werden wir positiv überrascht: Abseits der Wanderautobahnen totale Einsamkeit...
Published by 30 July 2019, 18h32 (Photos:11)

Blumenpracht am Gfroren Horn 2746 m
Das Gfrorenhorn ist ein vom Hauptkamm (Jakobshorn-Chüealphorn) nach Westen abzweigender, gegen das Sertigtal vorgeschobener Aussichtsberg. Die Schneelage hat sich in den letzten 3 Wochen stark nach oben verschoben, trotzdem liegt auf den höchsten Gipfeln noch recht viel Schnee. So erachteten wir das Gfrorenhorn mit seinen "nur...
Published by 17 June 2018, 16h33 (Photos:28)

Gfroren Horn (2746 m) - hike from Sertig
Start of the hike at 9:30 in Sertig Sand. From Feelabach, I followed an unmarked path in direction Senetrizfurgga. The plan was to ascend from elevation 2300 m on the NW ridge to the summit of Gfroren Horn. However, to do so, I would have had to cross a lot of rubble, and the grounds were partially snow covered. So, instead I...
Published by 19 October 2017, 12h22 (Photos:30 | Geodata:1)

Die lange Gratwanderung zum Gfroren Horn
Ein verlängerter Grat-Wanderklassiker über Davos – Gipfelsammeln im Plaisir-Modus Wir hatten nur eine Karte im Massstab 1:300'000 zur Hand und suchten nach Wanderideen. sglider zeigte auf den langen, gestreckten Kamm zwischen Dischma und Sertig Tal und schlug vor darüber zu wandeln. Meine Fragezeichen lösten sich nach...
Published by 3 September 2012, 19h56 (Photos:40)

Gfroren Horn
Wie der Namen schon verspricht, eine eher coole Tour, an einem 31.Dezember mit Start um 10 Uhr im Sertig Dörfli gibt's erst auf dem Grat zum Gipfel Sonnenschein. Die Route führt vom Sertig Dörfli dem Felabach entlang zum Fusse des Tällihorns, in südöstlicher Richtung führt die Spur durch ein ziemlich langes und steiles...
Published by 31 December 2010, 19h33 (Photos:22)

Gratwanderung zwischen Dischma und Sertig
Es muss ja nicht immer so saumässig in die Höhe gehen um interessant zu sein. Geplant wäre am Samstag eine "Wanderung" zwischen Dischma und Sertig zu machen und so dem AlpineMarathon-Rummel etwas aus dem Weg zu gehen. Für den K78 wird es sowiesonie reichen,der K42 liegt schon Jahre zurück und der Teamwettkampf wurde...
Published by 29 July 2008, 17h43 (Photos:21)

Gfroren Horn (2746m)
Teufi (Dischma) - Am Rin - Rinertälli - P.2641 - O-Grat - Gfroren Horn - Sertig Dörfli - Frauenkirch (Davos). Reizvolle Skitour durch das stille Rinertälli. Vom Sattel P.2641 zunächst steil aufwärts (Ski tragen) zum P.2744. Von hier ohne grosse Schwierigkeiten zum Gipfel. Abfahrt über den Nordhang...
Published by 8 December 2006, 23h17 (Photos:7)