Faschina 1482 m
4861 ft.
---
Locality in

29 hike reports

, 27 photo(s). Last visited :

28 Jun 19


Geo-Tags: A
Photos (27)
---
By Publication date · Last favs · By Popularity · Last Comment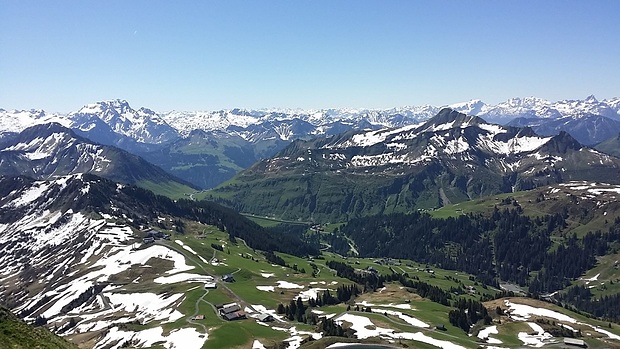 Die Sicht reichte über die Silvretta hinaus bis zum Piz Palü. Unten sieht man auch die Passstraße nach Faschina, von wo man in das Große Walsertal kommt. Eine weitere Passstraße führt über das Furkajoch und Laternser Tal in das Rheintal © alpstein
---
Reports (29)
---
Bregenzerwald-Gebirge

T5-

I

28 Jun 19

Türtschhorn - Überschreitung
Ein Grat, der mindestens so toll ist wie er aussieht... Die kleine Glatthorngruppe eignet sich sehr gut für kurze Bergtouren, die nicht den ganzen Tag dauern. Dabei kommt man eigentlich automatisch auf das hübsche Glatthorn selbst, das meistens als höchster Gipfel (2133 m) vom Bregenzerwaldgebirge angesehen wird. Wer etwas...
Published by 14 July 2019, 19h56 (Photos:22 | Comments:2)
| | | |
| --- | --- | --- |
| Lechquellengebirge | T3+ | 20 Oct 18 |

Glatthorn - Die klassische Runde ab Faschina
Im Herbst, wenn die Seilbahnen nicht mehr in Betrieb sind, wird es ruhig um Faschina. Dann ist die richtige Zeit gekommen für die klassische Runde über das Glatthorn. Dieser formschöne Dreikant, mit seiner rühmenswerten Aussicht, ist noch dazu schnell erreicht und als Halbtagestour außerhalb der Saison sehr zu empfehlen....
Published by 30 December 2018, 20h01 (Photos:40 | Comments:2)
| | | |
| --- | --- | --- |
| Lechquellengebirge | T3 | 24 Jun 18 |

Zafernhorn (2107m) - Rundtour auf den Großwalsertaler Aussichtsbalkon
Für den heutigen Tag war nachmittags labileres Wetter mit potentiellen Regenschauern angesagt, also sollte ein früher Start sowie eine Halbtagestour herhalten. Da wir im schönen Großwalsertal nächtigten, bot sich das Zafernhorn oberhalb von Fontanella an, der anscheinend ein top Panorama bietet und dessen Besteigung man zu...
Published by 25 June 2018, 18h01 (Photos:19)
Lechquellengebirge

T5+

II

17 Oct 17

Über den scharfen Westgrat aufs Zafernhorn und weiter über den Kühgrat zur Blasenka
Bei meiner Tour über sämtliche Grate am Glatthorn schob sich das markante Zafernhorn mit seinem sexy Westgrat, immer wieder aufreizend in mein Blickfeld. Und so änderte ich spontan meine Tourenplanung und setzte Horn und Grat auf meine Liste. Nicht erwartet hatte ich, dass das bei den Anwohnern für einige Aufregung sorgen...
Published by 24 October 2017, 16h10 (Photos:57)
Bregenzerwald-Gebirge

T6-

I

14 Oct 17

Sonnenköpfle, Türtschhorn, Hahnenköpfle - die Grate rund ums Glatthorn
Vor - wievielen? Sechs? Wochen musste ich meinen Sommerurlaub nach dem Jubiläumsgrat abbrechen. Schnee - fast den gesamten Rest des Sommers hindurch. Lediglich zum wunderbaren Ostgrat des Tannheimer Geißhorns und zu einer Gratüberschreitung am Daniel hatte es gereicht. Im Oktober aber wurde es endlich nochmal schön. Auf geht's...
Published by 26 October 2017, 15h47 (Photos:65)
Grosswalsertal

T3+

F

29 Jul 17

Grosse Walsertalrunde mit Zafernhorn (2107 m) - Bike&Hike
Das Grosse Walsertal bietet sich für Velofans geradezu an: Landschaftlich toll gelegene Strassen im UNESCO Biosphärenpark Bester Strassenzustand (die meisten Abschnitte neu asphaltiert) Ideal für eine Rundtour (Nord- und Südseite des Walsertals) Der Verkehr ist meist übersichtlich Allerdings...
Published by 29 July 2017, 21h42 (Photos:12 | Geodata:1)
| | | |
| --- | --- | --- |
| Lechquellengebirge | T2 | 26 May 17 |

Zafernhorn - Sommer im Süden / noch winterlich im Norden
Ein 2er sollte schon vorne dran stehen - doch die WebCams von Vorarlberg zeigten eindeutige Bilder: im Süden hui / im Norden pfui ... und dass der massenhafte, nordseitige Schnee nach der langen Zeit hochsommerlicher Temperaturen keinen Spass machen würde war klar - meiden!! Die Webcam 'Seilbahnen Sonntag' brachten den Beweis...
Published by 7 June 2017, 01h17 (Photos:31 | Comments:2)
| | | |
| --- | --- | --- |
| Lechquellengebirge | T4+ | 4 Dec 16 |

Blasenka + Zafernhorn (ridge and sunset hike)
After spending the morning on the Abendrot via ferrata, there was still time for a decent hike in the afternoon. For this purpose, I drove to the Faschinajoch and parked at the first hairpin on the southern side of the pass (nearby Hotel Domig). The hiking path crosses the Stutztobel (already some icy patches on the path here!)...
Published by 9 December 2016, 19h59 (Photos:39)
| | | |
| --- | --- | --- |
| Lechquellengebirge | T3+ | 10 Jun 16 |

Zafernhorn - als Nachmittagstour
Wochenlanges Wochenend-Regenwetter und ausgerechnet am Freitag der herrlichste Bergwandertag. Folglich viel um 12h pünklichst der Hammer - heim - Rucksack packen und ab in die Berge. Unterwegs - dank endlosen Kollonnenverkehrs mit 50/60kmh auf der B31 Richtung Lindau fiel dann die Wahl auf das Wander-/Gipfelziel: der...
Published by 3 July 2016, 12h14 (Photos:31)
| | | |
| --- | --- | --- |
| Bregenzerwald-Gebirge | T3 | 16 Jul 15 |

Damülser Glatthorn
Bei heissen Temperaturen von Faschina zuerst das Tälchen hinein und über den Westgrat hinauf auf das Damülser Glatthorn. Trotz der Hitze sind sogar unter der Woche relativ viele Leute unterwegs. Wieder hinunter und noch auf einen Einkehrschwung zur Stafelalpe. Die Blumen blühen derzeit auf den Almwiesen in voller Pracht....
Published by 16 July 2015, 16h52 (Photos:8)