Chüealphorn 3078 m
10096 ft.
---
Peak in

14 hike reports

, 47 photo(s). Last visited :

25 Aug 14


Geo-Tags: CH-GR
Photos (47)
---
By Publication date · Last favs · By Popularity · Last Comment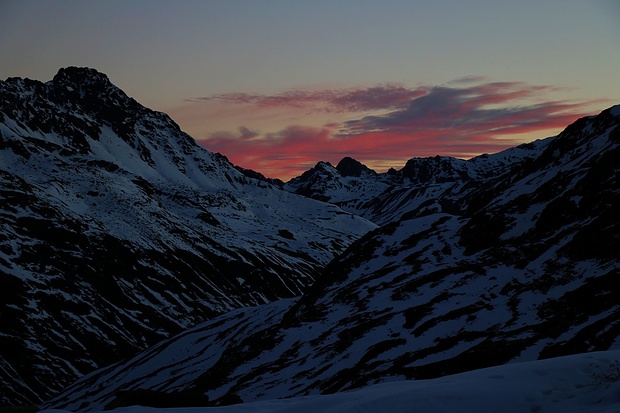 Morgenstimmung auf der Keschhütte / Chamanna digl Kesch. Links steht das Chüealphorn (3077,8m). © Sputnik
Reports (14)
---

Chüealphorn
Das Chüealphorn habe ich schon seit längerem auf meiner Wunschliste. Ist es doch relativ einfach zu besteigen und der Gletscher spaltenfrei. Um 6 Uhr starte ich in Dürrboden. Über den Wanderweg zum Scalettapass. Ab dort weglos weiter, die Gletscherseelein links liegen lassen, auf den Gletscher, dann die Schutthalde hoch zum...
Published by 27 August 2014, 21h00 (Photos:12)

Chüealphorn 3078...und meine Erwartungen wurden vollends erfüllt
Die Einen erhofften sich besseres Wetter im Süden, wurden dann aber mit starkem Föhn begrüsst und kehrten wieder gegen Nordenum. Andere trotzten Böen und empfingen ein Gesichtspeeling mit anschiessendem Gourmet-Schmaus. Wiederum zweienblieben die Wetter-Erwartung nicht erfüllt und schrieben dafür einenerfrischenden...
Published by 16 March 2014, 12h03 (Photos:25 | Comments:2)

Chüealphorn (3078 m)
Das Dischmatal wird durch eine Reihe von Dreitausendern abgeschlossen, die allesamt beliebte Skigipfel sind. Im Sommer hingegen erfahren sie wohl nur einen Bruchteil der Winterbegehungen, warum auch immer… Wer die Einsamkeit liebt und etwas Schutt und Blockgelände nicht scheut, ist jedoch auch im (Vor-)Sommer am...
Published by 5 July 2013, 22h00 (Photos:25 | Comments:2)

Le Chüealphorn 3078m
Nous sommes partis de Dürrboden avec une température estivale de -2°C, à sept heure et demie du matin. Le temps était magnifique et les montagnes toutes enneigées jusqu'à environ 2600 mètres. On se serait cru un beau dimanche de fin d'automne. Le sentier monte gentiment dans des...
Published by 2 September 2010, 22h02 (Photos:15)
Chüealphorn 3077,8 m - Einsamkeit hoch über dem Scalettapass
Glaubt man dem Gipfelbuch auf dem Chüealphorn, so wurde dieser Berg dieses Jahr vor unserer Ankunft erst ein einziges Mal bestiegen. Woran mag das liegen? Zum einen sicher, weil das Gipfelbuch im Steinmann sehr gut versteckt ist undrichtig ausgegraben werden musste. Zum andern vielleicht wegen der kurzen Gletscherpassage. Der...
Published by 22 August 2010, 20h08 (Photos:26)

Chüealphorn 3077,8m und Augstenhüreli 3027m
CHÜEALPHORN UND AUGSTENHÜRELI - ZWEI HOHE DAVOSER DIE IM SOMMER NUR SELTEN BESUCH BEKOMMEN. Auch dieses Wochenende war ich wieder im Gemeindegebiet von Davos unterwegs. Martin (Munggenloch auf HIKR) möchte alle Gipfel auf seiner Gemeinde Davos sammeln, deshalb kam ich auf die Idee hier ebfalls alle 3000er zu...
Published by 28 September 2009, 18h41 (Photos:39)

Von Dürrboden nach Zuoz via Chuealphorn und Piz Kesch
Das Gebiet zwischen den Flüela and Albula Pässe ist ein grosses, wildes, Wanderparadis mit sehr wenig Infrastruktur and kaum (?) Landwirtschaft. Da das Gebiet auch als Schiessübungszone der Schweizer Militär benutzt wird fällt einem sofort auf warum es dort so wenig gibt. 1. Tag: Dürrboden-Chuealphorn-Chamanna digl Kesch...
Published by 2 July 2009, 12h40 (Photos:7)

Chüealphorn 3078m
Chüealphorn, höchster Gipfel der Bergkette zwischen dem Sertig- und Dischmatal. Nach dem Wachkoma vom 1.1. zog es mich heute wieder in die Berge. Besonders gefreut hatte mich dass ich von Jörg und Adi begleitet wurde. Ein gelungener Jahresanfang. Vom kostenpflichtigen Parkplatz bei Sertig Sand...
Published by 2 January 2009, 21h15 (Photos:23)

Inmitten der Alpen- das Chüealphorn 3077.80 M.ü.M
Von einem wunderschönen Tag inmitten der Alpen, einem sich aus dem Leben scheidenden Öldeckel und Skiträger, die keine Skier tragen wollen... Der Tag begann meinerseits bereits um 5:00, etwa 30 Minuten bevor ich Schlumpf im benachbarten Gutenswil abholen soll. Mit der kleinen Zugabe der noch anstehenden...
Published by 2 January 2009, 22h01 (Photos:21)

Chüealphorn 3078m
Roger und Adi haben die Tour bereits ausreichend beschrieben. Einziger Wermutstropfen, die Tour verläuft fast gänzlich auf der Nordseite, der Sonnenschein ist um diese Jahreszeit spärlich und die Temperaturen dementsprechend eisig kalt. Beim Skidepot fanden wir dann allerdings einen windstillen Platz...
Published by 4 January 2009, 12h58 (Photos:11)